AP Studio Art 2D Students Make Captivating Art with Compelling Concepts
Students express their own opinions and ideas with their Concentration Portfolio.
West's full-year art course, AP Studio Art 2D, has been tackling an exceptionally challenging task with their second segment of the class, Concentration.
Concentration is the title of the second portfolio students must create and eventually submit to the College Board for evaluation.
Students were asked to choose a topic to explore and "concentrate" on as they began to build their second portfolio. Through what they call their artist's statement, students were required to explain what they intended to convey about their topic through their future art pieces.

Drawing student Kelley Hall, junior, decided to create her artwork based on the relationship of her and her twin sister, Abbey Hall. The following is Hall's statement:
"My concentration focuses on my identical twin and I.  The combination of emotions portrayed through facial expressions and body language as well as a combination of acrylics and watercolors in the ground creates differences in emotions between my sister and I. Some of these pieces portray both of our faces, while others portray a singular face. We share similar facial features, yet the variations in expression and color portray our different personalities and characters. Many people dehumanize identical twins by thinking of them as the same person, with the same likes and dislikes. I am always compared to my twin, and through my artwork I convey that even though we're identical twins, we're different people."
Originally, after a few weeks of following up with Hall about her project, she explained that her artist's statement had changed from her first draft. She had actually intended to create art which would portray the world in the eyes of a dog. Her intention was to bring awareness to animal abuse and the importance of animals in people's lives. However, after her first project hadn't turned out the way she had thought, she decided to completely change her artist's statement.
Currently, she is having much more success with creating artwork based on her relationship with her sister. You can see one of her pieces to the right.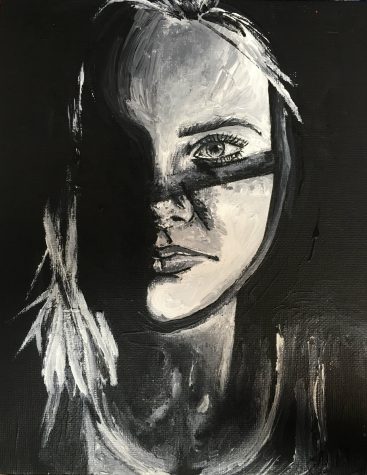 Unlike their first portfolio, Breadth, students aren't required to try different techniques and mediums, however they are required to be innovative and sometimes that means trying new things no matter the outcome.
Jacob Johanson, senior and design student, did just that with his first piece of art. As he says in his artist's statement provided below, Johanson is exploring what it might be like to debut as a rapper.
"A musical artist does not just become big over night because of a single audio file. Today it is much more than just the music. It is the branding. The main question: who that artist is going to be? Branding of an artist solves that. Through my concentration I have explored what it would be like to, myself, be a rapper and what type of image I would want to create. This is the design that made Young Jehu."
"This was the first concentration piece we have done and I wanted to create a piece that is almost introducing myself as a rapper and foreshadow what is to come," Johanson explains.
As seen in the picture to the right, Johanson created a mysterious and shadow-like appearance for his rapper. Describing how he planned the piece, Johanson explains, "I did that with the darker black paper creating a shadowed look on the body, face, hands, and the folds, as well as cutting off the face at the nose to not show the whole face."
He says the "YJ," which is formed by the hands of the rapper, stands for his rapper name, "Young Jehu."
Not surprisingly, the class is fairly rigorous being an AP class after all. Students are required to submit a piece of art once a week to their teacher and a critique day is also part of the week.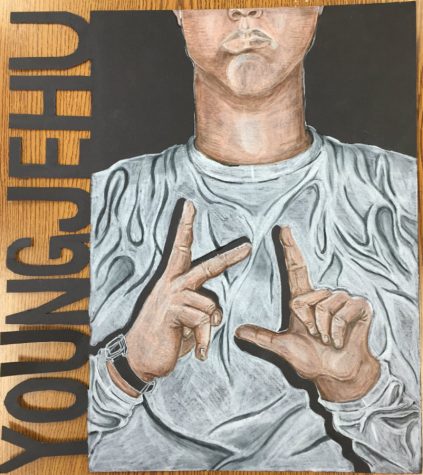 "This class has been super challenging." He says, going on to explain that he is "also in AP 3D Studio Art, so balancing the two is challenging, but really fun because I get to do what I love."
Hall echoes this opinion saying, "I had to spend long amounts of time and focus on my art pieces, in order to get them done. I've never been used to finishing an art piece in a week, and with all my other classes it's been hard to balance."
Students are graded by their teacher and then by the College Board. However, the College Board evaluates the full portfolio which contains twelve pieces while their teacher grades each piece of art as they are finished one by one.
Mrs. Doyle, Studio Art teacher, states, "I want [students] to take risks with their art making. There is no one way to create and I want them to explore materials, compositions, concepts. I want them to have a creative 'voice' and develop a body of work that would make a fabulous portfolio to show their college professors."
The grading system for the class is based off of the College Board grading scale where 5 is the highest grade and 1 is the lowest. These scores are determined by multiple factors besides creativity such as technique, portrayal of ideas, styles, and use of different mediums (the type of materials used to create the artwork). Grading also depends on what category the students fit under.
AP Studio Art 2D is a mix of all types of art students such as students from a painting class, drawing class, graphic arts class, etc. Students who took painting or drawing fall under the drawing category, while graphic design and cartooning students fall under the design category.
These categories determine what their artwork will typically consist of and how College Board will assess them. For drawing students, this could mean the quality of composition and originality as well as decision-making and/or risk taking. Assessments of a student's skill with materials and media would be taken into consideration when grading a design student.
Many students taking this class do plan on having some major or minor pertaining to art. Johanson shares his plan for college stating, "I want to study graphic design somewhere in California. Later, I have no idea what is to come for a career, but I do know I want to create, so you can look out for more art in the future."
And you certainly can continue doing so at West. The 3rd floor's main hallway is always displaying the many spectacular student art pieces. Both Kelley and Jacob were featured AP Studio Art 2D students these past two weeks. Feel free to check the wall each week for some awesome pieces of art and maybe a hidden message along the way!
About the Contributor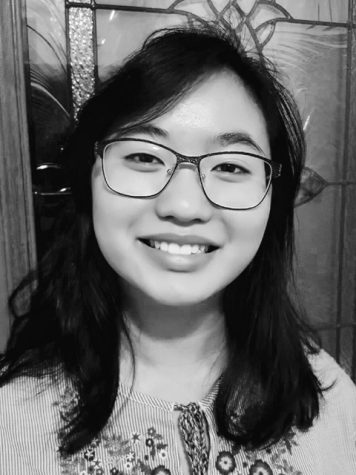 Emma Blackwell, Editor-in-Chief
Emma Blackwell is senior at West and is both the Editor-in-Chief of The Glen Bard and a columnist. Her main column is called "Artist's Corner" and covers...