Artists' Corner: Graffiti-inspired art at West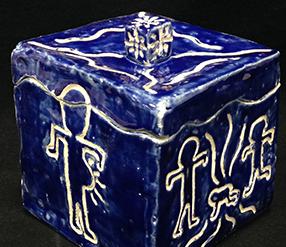 While graffiti is not typically thought of as an art, Keith Haring popularized the unique style when he first began to draw his own graffiti-inspired art.
While riding a subway in New York, Haring saw graffiti written on the tunnel walls and immediately took a liking to the style. Intrigued, he began using white chalk to draw his own graffiti-like drawings on empty, black advertising spaces throughout the city.
While he gave away most of his merchandise for free, Haring did set up the Pop Shop in 1986 which eventually closed in 2005. Some of his most famous works include, Radiant Baby, DJ Wolf, the Berlin Wall Mural and Pisa Mural, and Best Buddies which you may recognize as the logo for our school's own club, Best Buddies.
Haring's artwork focused on some types of social idea including sexualism, religion, death, love, and social messages. Unfortunately, in 1990, he died 31 years old due to HIV/AIDS, but his artwork continues to hold prominent value in society today.
Glenbard West's Ceramics 1 students have been exploring Haring's art style by creating clay boxes with their own artistic social message carved into them. Clay is long-lasting material that, if used to create something, can keep the object intact for thousands of years.
"The pieces they create in this class will stand the test of time and culture long after us. I want the students to know that the creative problem solving used in this class will translate cross-curricularly and be valuable in future problem solving in the real world," states Mrs. Doyle, Ceramics 1 art teacher.
In this project, the students began with a sketch of their box design. Once their idea was formulated, they took clay and wedged – art term meaning to knead – the material into six slabs adding a knob as well. The next step was creating their design (social message) using a "sgraffito tool" which carves out the clay. The design complete, the boxes were dried and fired in a kiln.
Briefly, two students explain their own social message and what Ceramics is all about.
Legnaliz Alequin, a freshman, says, "I want to show students that families grow in love [and that] this love can be spread."
Another student, sophomore Jack Hennessey states, "My message is about the fact that there is a 'sick world' where humans go to the extreme. I found it interesting how there are conflicting issues like killing but also other people whose entire goal is to be kind and caring. My message shows both peace and war, and love and hate. I was really inspired. I love Keith Haring's ability to express controversial issues with simple lines and figures."
Both students said their teacher was awesome and encouraged taking Ceramics 1 because you can relax from the normal classes and just create something.
Located on the third floor, the boxes were put in the 3D display case across from the Black Box. If you see one of these clay boxes try to figure out what social message the student had created; maybe it will impact society twenty years from now just like Keith Haring's did. Anyone can make an impact in the world and art can be a way for you. Haring made a point of this with four simple words: "Art is for everybody."