Reflecting on her first semester at Glenbard West
and expressing her hopes for the future: Mrs. Monique Godziszewski
After previously working at Bolingbrook High School for four years, Mrs. Monique Godziszewski (Mrs. G) joined the English department at Glenbard West, bringing with her a passion to teach students the importance of literature and the voice it can give you.
Growing up on the West side of Chicago, Mrs. G had a big passion for teaching. From watching TV to her personal experiences in school, she had always thought that teaching was the role for her. Specifically, she recalls role-playing as the teacher while playing "school" with her cousins as kids: "I was literally the teacher. I was always the teacher." It didn't occur to her until high school, however, that she wanted to become an English teacher. As a kid, reading and writing was "something that [her] father ignited in [her] by forcing [her and her sister] to go to the library on Saturdays and to write book reports that had nothing to do with school. It was just writing for the sake of reading and writing." As an English teacher, she hoped to share her love of reading and encourage students who might not necessarily be fond of reading and writing to enter the world of literature: "In high school I had a lot of English teachers that didn't make learning fun. Although I loved what was being taught, I could see how students would hate it or not find the joy in it. I wanted to change that stigma that often existed around English classes." 
Early on in her career, Mrs. G knew that Glenbard West was the school for her. Despite hearing no response from the school after she applied in 2010, her love for the school never stopped. Every time she felt like she wanted to move on to a new school, her research always brought her back to Glenbard West.
"Glenbard West just has a good reputation. When I researched the school a bit more and learned about what they were doing with equity, I just knew that I had to be here. It was the work that I'd been wanting to get involved in and the overall direction of where the school was headed was something that I definitely wanted to be a part of… It aligned with my philosophy and where I wanted to go with my career. At that point, it just seemed like a perfect match." Specifically, Mrs. G recalls thinking of West as the "Disney World" for teachers: "You describe it and you think 'that doesn't exist' but then when you hear about it you're like 'well this is amazing! How has this place always existed like this, and yet I've been to other places and it's never felt that way?'"
Now that she's at West, Mrs. G hopes to share her love of literature with her students. With the rise of modern technology and social media, "the literature aspect of English classes have been underrated for so many years." More recently though, books that are read so often in classes, such as The Hate U Give by Angie Thomas and Speak by Laurie H. Anderson, speak to young adult experiences and encourage teens to find power in themselves in order to stand up for what they believe in. Emphasized by this revolution of texts, Mrs. G "really wants students to fall in love with the world of literature again and fall in love with their words." She relates it to a Social Action Project, a unit in English 1H classes where students find a problem in the real world and implement a solution to it: "It's kind of like the Social Action Project. It's about what your words can do and how they can change things around you… It's something that I enjoy and I hope that students can see that too."
---
In a wonderful turn of events, it has recently been confirmed that Mrs. G will be moving from her position as an English teacher to becoming a dean in the following year! She expresses her excitement as this has always been the next step she wanted to take in her career path after she became a teacher. Mrs. G explains that her position as an educator gave her the opportunity to work with various deans and members of the administration, ultimately reforming the misconceptions she initially had about them during her years as a student.
"
My ultimate goal is to hopefully transform what a dean means.
"My ultimate goal is to hopefully transform what a dean means. When I was growing up, when someone said 'go to the deans' I just thought 'trouble'. That's it. I've always wanted to stay away from that office. But having the opportunity to work with some deans here and see what they do, I see that it's not punishment, not at all. Of course [there's] consequences with visiting a dean especially if you create infractions but there's also this idea of 'if teachers are here to support you, then people who are…admin that support those teachers, therefore also support you…' With that, I hope that students will see me as an aid to them opposed to 'the dean'. Someone who is in their corner and wants the best for them."
Reflecting on her career as an English teacher, Mrs. G believes that English will always be a part of her and moving forward, her new position will only capitalize on her experience: "That will never go away. I will always be an English teacher at heart just because of my love of the profession itself. I think, as a dean, it will only capitalize on my experience as a teacher and as an English teacher because of course with being a dean there comes writing emails and being able to effectively communicate with staff and the community so that will always exist for me there."
Additionally, Mrs. G explains that her experience as an educator has taught her many lessons that she thinks will have a great impact on her new position. Specifically, she recalls the struggle of not being able to help her students as much as she would like to because of her role as a teacher: "I think what teachers in the classroom can't do is they see students struggling and although they may pull students to the side and talk to them, they really don't have all the time to commit with that one student and work through some issues so I'm hoping this new position will put me in a position to do just that, like work with our at most risk students."
Ultimately, reflecting on her first semester at West, Mrs. G urges students to remember that "this is a good place to grow as a student and many teachers and staff members [she has] met here are invested in student success, something that is difficult to find in most places. [She] hopes that students will take full advantage of their experiences here." And, going forward, she hopes students will come to her whenever they feel they need help: "Come see me! Although I may not be your assigned dean, still stop by and see me and I hope that I can still connect with a wide range of students."
A huge congratulations to Mrs. G for her success! We wish you the best of luck!
About the Contributor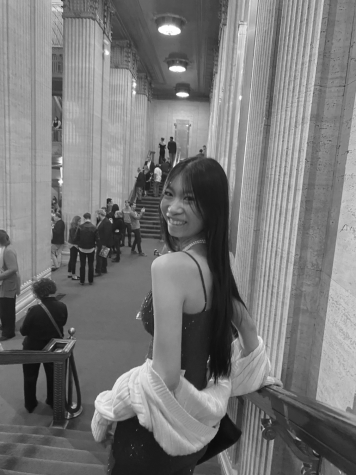 Amy Tran
Amy Tran is a sophomore at Glenbard West High School and an editor of The Glen Bard. Outside of the student newspaper, she is also a part of Student Council,...