The Black Box, In Review
West Theater presents two student written and produced shows that will run from Thursday, January 19th to Saturday, January 21st, Only a Matter of Time and Once Upon a Crime. If you have the opportunity to make it to a showing, here is what to expect. 
Only a Matter of Time, written by Seniors Emma Wargin and Vivienne Winter, is a zany and cheesy sci-fi movie brought to life on the stage. It follows Ren (Jackie Houghtaling) as she travels through time to the music of the "Time Warp", trying to save the world from Jim Gezos (Gio Scarpelli) and his company Amazoon. Along the way, she teams up Fiya (Addie Williams), a cowgirl from the Wild West, and Mia (Sophia Savarese), an influencer from 2022.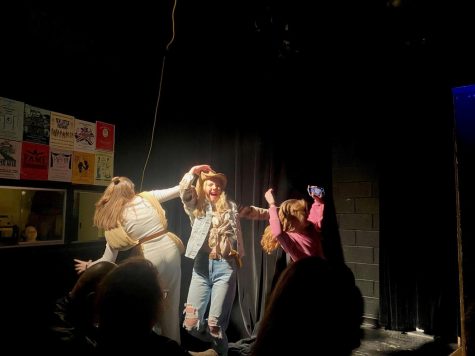 This show pulls inspiration from Austin Powers, Star Wars, and the like. The result is a corny, chuckle worthy production replete with shiny robots. It is perfect for a family outing (save for some very light swearing) as the goofy plot includes jellyfish, a Chili's restaurant, secret handshakes, and Glee references to boot. This show plays with countless cultural touchstones while spreading a message about materialism and how it will affect the future. If you enjoy watching a creative twist on the time travel formula while listening to lively music, this show is definitely worth watching. 
Once Upon a Crime, written by Senior Autumn White, is a classic murder mystery chalk full of quirky characters. Sit back and watch two bickering detectives listen to one far-fetched tale after another in order to find clues and find out who done it. 
When actress Myra Maines (Kristen Vogel) is murdered under mysterious circumstances, detectives Ima Crook (Bella DiCosola) and Ricky D. Bones (Daniel Smith) must crack the case. Mr. Smith brings back his trademark dramatic hand gestures and southern drawl which compliments Ms. DiCosola's more grounded, snarky portrayal of Detective Crook.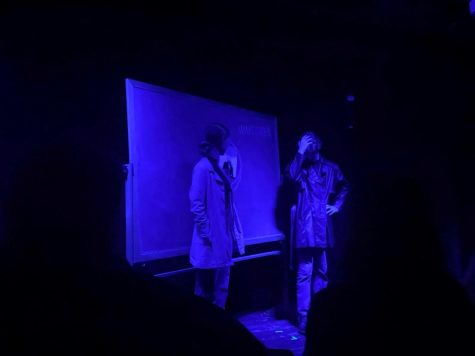 They interview five kooky suspects; starting with Winston Payne (Madeline Strawn) who will make you laugh uncontrollably with a lisp, slicked back hair, and buffoonish demeanor. Then a sunburnt and spacey Mrs. Eyemanaylyen (Chase Qualio) is interviewed followed by Mr. Nottasnitch (Griffith Albrecht) who is complete with a beard, baseball cap, and t-shirt spelling out "Dad Life". Next is Miss Terry (Maggie Frigo) who captures your eyes immediately with her crazy, dramatic makeup, bejeweled high heels, snakeskin turquoise bag, and Jersey-eqse demeanor will have you in stitches. Finally sweet Val Badgye (Katie Rath) is interrogated, donning a sweater plastered with cats and two schoolgirl braids that tie together her perky personality. 
The detectives spend the rest of the show trying to connect all their wild stories to solve the case. It all culminates in a final chaotic scene that will fill you with laughter (just watch out for falling stop signs). If you want to watch pleasant insanity unfold on your Saturday night, this show is a must see.