Create Striking Outfits with the Latest Fall Fashion Trends
Warm, rich, and bold is the trend for this fall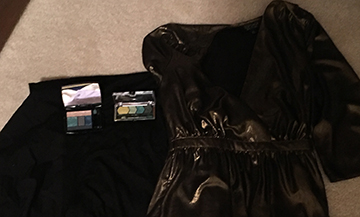 As fall arrives, new fashion trends come with it. The new style is warm, rich, and bold. Velvet in deep blues and greens, dramatic necklaces, bold animal print, bright golds, and long, flowing skirts create a striking autumn look.
Dramatic necklaces were featured by fashion houses such as French-based  Lanvin and Balmain on the runway. Styles include layered necklaces and large fake gems. These necklaces often have a vintage feel, so thrift shops and resale stores are good places to look for pieces.
Jewel-toned velvets are also a current trend. Look for dresses or jackets in deep blue or dark green. The colors can also be carried over into makeup, with eyeshadow in emerald green or sapphire blue.
The metallic color of the moment is gold, whether brassy or tarnished. This can be combined with the trend of statement necklaces, by wearing a necklace made from a golden-hued metal. Sparkling nail polishes in gold can be another way of capturing the trend.
Flowing skirts provide an ethereal contrast to the rich and heavy styles listed above. Look for knee-length or longer skirts in a light and flowing fabric, perhaps with pleats to add extra motion.
Adding a dash of fun, animal prints are also popular on the runway. These prints can be subtly added to an outfit in the form of accessories such as scarves and shoes.
High style doesn't have to come with a high price tag. You can achieve the looks of the season at a bargain by going to resale shops or checking the clearance department. Another way to incorporate trends is by buying accessories that match the trend or wearing makeup that matches the season's in colors. With a little creativity, you can copy the runway trends.