Novel Idea: The Cuckoo's Calling
The author of Harry Potter branches out into crime fiction.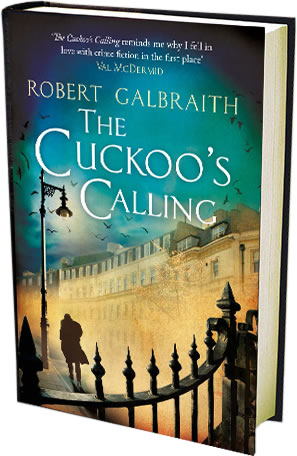 The Cuckoo's Calling was initially published in April 2013 as the debut novel by Robert Galbraith, a writer with a background in the British military, to relatively positive reviews. However, in July 2013, it was revealed that the actual identity of Galbraith was none other than J.K. Rowling. Immediately afterward, it rose significantly in popularity and sales. The books became so successful that several more in the series have since been published and its readership has grown exponentially.
The plot of the book centers around military veteran turned private detective Cormoran Strike and his new temp Robin as they attempt to solve the mystery of a supermodel's untimely demise.
Strike has just lost his girlfriend and his home and is barely keeping his business afloat. Robin is new in town and is just trying to earn enough money as a temporary assistant to get by on until she gets a more permanent occupation. They don't anticipate working together long until the brother of deceased supermodel Lula Landry approaches Strike to investigate her death, pulling both Strike and Robin onto a deceptive and dangerous path as they trek through the darkness that lies within the lives of the rich and famous.
This novel, written initially under a pseudonym to escape the expectations that must inevitably follow the author of the prolific Harry Potter series, delivers a well-written crime fiction novel in its own right. It follows the classic scheme of detective fiction, investigating clues and red herrings from Lula's past in order to solve her death. However, in many ways it is the complex characters that make the story excellent. Each of the players in this mystery receive attention beyond just surface impressions, from the detective with a personal life and past every bit as intriguing as his professional life to suspects who hide dark secrets behind their glamorous lifestyles. This is a book that doesn't shy away from detail.
If you're looking for something similar to J.K. Rowling's fantasy Harry Potter series, keep looking. This is a story directed towards an older audience rather than children and is firmly planted in the real world. But if you enjoy well-written crime fiction and detective stories, this novel will certainly interest you and keep you guessing about the outcome until the very end. I'd recommend this book to anyone looking for a great book to read this fall.