A BookTok Favorite : It Ends With Us by Colleen Hoover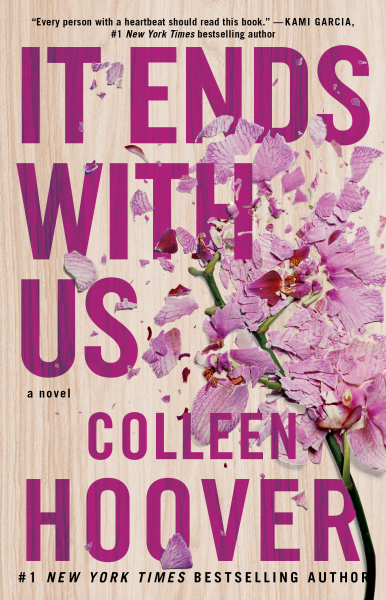 book review by Ayesha Khan
If you have been anywhere near BookTok, Bookstagram or Booktube, you probably have heard all about the contemporary fiction "It Ends With Us" by Colleen Hoover. So if you are on the fence about reading it, here's a spoiler free review to help you make up your mind.
Lily Bloom has had a rough life but that has never stopped her from working hard for her dreams. She graduated from college, moved to Boston and started her floral business and met Ryle Kincaid, a successful neurosurgeon who is assertive, confident and arrogant. He's brilliant and changes his plans of living a bachelor life for Lily. However as their relationship progresses, Lily finds herself wondering why Ryle was always so against the thought of partners and relationships.
As questions about her perfect relationship flood her mind, so do thoughts of Atlas Corrigan- Lily's first love and an important link to the past she has tried to escape from. When Atlas suddenly makes a reappearance in her life, everything she has built is threatened.
Personal thoughts:
In my opinion, this is a book that you should dive into without too much knowledge about the plot or characters so I won't give out too much details here. The unfolding of the story is handled wonderfully and leaves the readers grasping for more. I would however advise everyone to check trigger warnings before picking it up!
While the book has a lot of sweet moments and swoon-worthy dialogue, this is not a romance story. It is the story of Lily and how she saves herself from something she was convinced she would never experience. It's the story of her grief, her growth and her incomparable strength. It was a breathtakingly beautiful narrative of a truth that many women face in their life. It's an ode to the ones who stood up for themselves, even if it meant letting go of everything they know as their world.
I avoided reading this book for the longest time because I thought it was overhyped. But I could not have been more wrong. While it is not anywhere near being the best book I have read, it was certainly a ride to enjoy. It deserves all the praise and the author, Colleen Hoover, is amazingly talented with the ability to spin out such a sad, lovely, heartbreaking, courageous story in such an excruciatingly painful yet beautiful way. I adored the characters and I cried and laughed and grew with them all. The book is full of wonderful quotations and sweet moments that will stay with me forever.
I would definitely recommend this book to anyone curious with just a heads up about a few sensitive topics. The sequel "It Starts With Us" comes out in October, 2022 so keep an eye out for that too! 
Happy reading ~