A comprehensive analysis on Ugly Love, by Colleen Hoover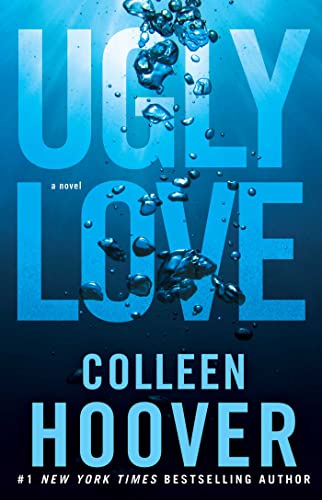 A gut-wrenching tale of passionate yet unrequited love
If you have been anywhere in the midst of social media or a bookstore, then there is no doubt that you have heard of Colleen Hoover. The New York Times bestselling author most known for her record-breaking book It Ends With Us, primarily focuses her writing on realistic fiction, specifically dealing with tough topics such as star-crossed love, abusive relationships, and trauma. Despite reading several of her books prior, I was particularly drawn to Ugly Love, one of her older novels, as the synopsis caught my eye and I noticed it wasn't really trending online like many of her others.
Plot and Synopsis:
The novel follows Tate Collins, a brilliant and ambitious nurse-in-training who moves in with her brother in San Francisco to finish nursing school. She meets Miles Archer, her brother's mysterious friend and airline pilot, and putting it lightly, it is not love at first sight. Not romantically anyway. However, a jaw-droppingly handsome, blue-eyed, unpredictable boy whose presence fills an entire room is everything Tate has ever wanted in a guy and she quickly begins swooning. Despite his desultory attitude, she was able to see feeling and pain and secrets behind the stormy blue of his eyes. There was more to him than he led on and she couldn't help but be drawn to him. But love was impossible for Miles. It could never happen to him. It shouldn't. Tate's feelings intensify nonetheless. Each time he smiles. Each time he's kind. Each time he touches her… that undeniable, ever-present connection beckons and her skin lights on fire. And even though he's cold one minute and hot the other, she suspects he feels something real too. Desire grows as confusion consumes. 
As the story progresses, Miles and Tate acknowledge that the only thing they have in common is their intense and undeniable attraction for each other. They soon come to an agreement: sex with no strings attached. Miles only has 2 rules. 1. Don't ask about his past, and 2. Don't expect a future. Seems perfect, right? Nothing more, nothing less. They think they can handle it, but realize almost immediately that they can't at all. As Tate soon discovers, what she feels for Miles is so much more than carnal desire. She falls head over heels for him, and thoughts of him completely consume her very being. He's all she can think about, dream about. But is it healthy wanting someone so badly that your entire sense of reality distorts, all while knowing you could never have them? The thing with Tate is that she doesn't merely want him, she needs him. And every minute she's not in his presence makes it hard for her to breathe, yet there is something unspeakable that occurred in his past that keeps him from falling in love.
Character Analysis:
Miles' character defines complexity. A well-worn armor masks emotions, conceals a past, hides pain. We get to know him gradually, moment by moment. Upon first meeting him, he seems hardened, callous, uncaring, but we also get the sense that he's incredibly vulnerable. Tormented. He's been through something life-changing. Life-taking. Soul-consuming. He's been irrevocably damaged, and nothing can fix him. Because now, in the present, he seems bereft of it. Living but not really living. Breathing but not really breathing. Numb and simply going about the motions of what life requires us to go through.
The story centers around their struggles to understand and come to terms with their feelings for one other. Is it really love, or just desire? Tate must battle whether Miles' sometimes hurtful actions are worth it. As her heart is broken multiple times, is he still worth it? And Miles must reconcile his past and decipher his own feelings before it's too late. Will he be able to move on from what happened and stop torturing himself for it? I loved the buildup of emotion as these two people fell in love. I could feel myself filling up with desperate hope and possibility and potential what ifs? It was all such a visceral experience. So many emotions. So many ups and downs — but mostly downs. So many feelings. All wonderfully and excruciatingly beautiful and soul-crushing.
"Hearts get infiltrated.
Promises get broken.
Rules get shattered.
Love gets ugly."
My personal thoughts:
Ugly Love delivers a reading experience rife with heart and intense hurt, highlighting the theme of complicated love. It illustrates the concept that love is so much more complex than simply having feelings for someone. Love is absolute. Love is all-consuming. Love is devastating. And although many people find it passionate, for me, it's a pretty complicated story because it shows the depth of loving someone truly and how difficult it is to do so despite their flaws. It's a conscious decision to continue being with that person even when you see them at their worst. To continue loving them even when they don't give you a reason to stay. To keep running back to them even when you know you shouldn't. To make sacrifices and compromises in your life because you know in your heart they are the one and you cannot possibly imagine living without them. This story also made me ponder, is it still possible to love someone who took everything away from you? Riddled with anxiety, insecurities, and questionable pasts, Colleen Hoover's imperfectly built creations are not for those readers who expect a perfect ending.
However, as much as I enjoyed it, there is some criticism I harbor for the novel. For one, I found it odd that although Tate is the intended main character, I didn't notice much character development for her. The entire story revolves around Miles' past. Despite questionable formatting, if a story has good bones, it can be overlooked. And yet I could not quite bring myself to appreciate Ugly Love's bones. Tate is made to seem commendable for sticking with Miles while he struggles with his dark past. But sticking with him is pretty harmful to Tate from the start. She's treated as a doormat throughout the course of the story. There is a time she thinks "he ruined me," and yet continues to stay with him. There is an incident when kissing is compared to killing. Miles is never physically or even intentionally abusive, but he's constantly hurting Tate, and I didn't think it's commendable at all to glorify unhealthy love, as well as show readers that staying in those situations is good for the person who's constantly being hurt, because as seen with our main character, it can devastatingly impact one's mental health and self-confidence. 
Quiet in agony and loud with emotions, expect to feel everything. See everything. By the end of this feature, it's no secret that Colleen Hoover is one of my favorite authors. Personally, I feel that she is one of the best storytellers out there right now. And with each book I read, each character I connect with, and each page I turn, I am more in awe of her talent as a writer as each and every deceptively simple word—transforming into string of words—suddenly has the power to shatter me completely in ways I didn't even think was possible. If you've ever loved, this book will leave you in a mess of emotions but as the theme of our story goes, the ugly emotions we feel when we love are not nearly worth the happy ones we get to feel as well. For fans of heartbreak, unlucky love, and "right person, wrong time", I could not recommend this story more and would read it a thousand times over.