In Defense of Young Thug: A Misunderstood Pioneer
In the summer of 2014, the Rich Gang song "Lifestyle" was released to massive success. It was certified platinum and for mainstream audiences, the track was their first exposure to the, at the time, underground hip-hop artist Young Thug.
Unfortunately for him, many people said that their first taste was a sour one. Thug was widely mocked for his bizarre vocal stylings on the track, with his high-pitched, Auto-Tune-dense performance rendering many of his lyrics unintelligible. His first breakthrough success left him a laughingstock in both the hip-hop and music communities, and this reputation still lingers to this day, which is quite a shame. Not only has Young Thug's career since "Lifestyle" not been given the proper attention and praise it deserves, but he also has made enormous impacts on hip-hop, culture, and the way we view music, making him one of the most important names in popular culture right now.
Young Thug began his career as a cheap Lil Wayne knock-off, but he has evolved into something beyond anyone's wildest dreams. His first three projects, the "I Came From Nothing" trilogy, reeked heavily of Lil Wayne's influence and was chock full of cliches and stereotypes that did nothing to set him apart from the thousands of other trap rappers.
"1017 Thug" is where he first began to really step away from the shadow of his mentor and started to develop his own style. On the Rich Gang (a hip-hop group of which Young Thug is a member) mixtape "Tha Tour Pt. 1," Thug was definitely the standout of the bunch, with his aggressively delicate style reaching dizzying heights that soared above the other members, being Birdman and Rich Homie Quan.
But 2015 is the year where Young Thug finally transitioned from the cliched and uninspired caterpillar of his early career into the beautiful and unique butterfly of today. In the span of 11 months, Thug put out five mixtapes, an extraordinary feat, made even more impressive by the fact that all of which were unique, superb, and diverse. His most recent mixtape, "Jeffrey," is the exceptional culmination of five years of his maturing as an artist, and it stands as the both the best and the definitive Young Thug project.
The one thing that most distinguishes Young Thug is his style, and this is two-fold, with both his musical and fashion styles being unlike anything the genre has seen before.
First, his musical style is difficult to define, as it varies drastically depending on the song (or the verse), but the last thing it is, is random. There is most definitely a method to the madness, and it starts with his Auto-Tune soaked lyrics. No matter whether he is rapping or singing, the Auto-Tune both distinguishes his voice as his own and creates a melody of sorts that allows one word to flow into the next so easily.
Furthermore, Thug's delivery of his lyrics is anything but consistent, as he will go from singing to rapping and anywhere in between, often all in the same verse. But this is not distracting or off-putting at all; rather, the opposite is true, as the shifts between his different delivery types are seamless and entrancing, meaning he can be harshly screaming his lyrics one moment and gently crooning them the next, and it works. And this here is the key that makes Young Thug such a fascinating and important artist: versatility. In his discography, he has everything from bangers to ballads and pretty much everything in between, and not a single one feels out of place. At this point, he could release one project entirely comprised of his performing the loftiest opera songs and another entirely composed of the grimiest punk rock songs and there would be no issues with consistency.
Thug's unconventional fashion choices are also making waves in the hip-hop community. The cover of his latest project, "Jeffrey," has him wearing a dress, something unheard of for a popular rapper. And this is not the first time Thug has been seen wearing women's clothing, as he appeared in a Calvin Klein ad wearing women's clothing in July, and has been photographed since 2014 in the non-traditional garb.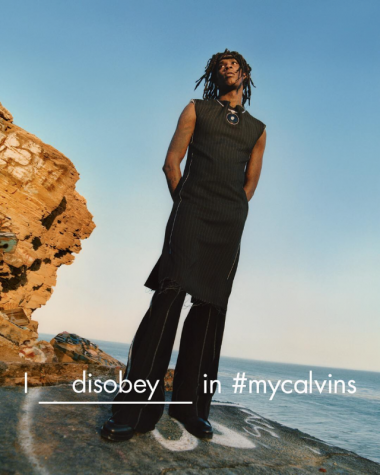 In a genre with a notorious case of homophobia, Thug is making a powerful statement by doing something so daring and provocative. The notion of gender is being bent through Thug's helping to tear down the pre-existing gender roles and expectations set for the different sexes. Young Thug has proven himself as much more than just a rapper with his fashion style, and he could even end up having some influence on the various progressive movements of today.
Despite how much Young Thug has progressed as an artist, the one criticism that is most heavily leveled at him concerns his lyrics. Admittedly, Young Thug's lyrics are simplistic, asinine, and even laughable at times. But although hip-hop is indeed a genre that puts a strong emphasis on the quality of lyrics, Young Thug is again an exception to the traditional rules: the lyrics in his songs do not matter.
Thug's main instrument is his voice, and his lyrics are the strings to his guitar. No one really cares where one's fingers are on a guitar or what strings are strummed when someone plays; the only thing that matters to the listener is how it sounds. His approach to his lyrics is quite Machiavellian, in that the ends justify the means. As an artist, Young Thug is a spectacle to behold, and as long as he is able to perform his vocal acrobatics, the technical aspects of that performance are irrelevant.
The unimportance of his lyrics brings up the most important aspect of Young Thug as an artist, which is how accessible he is. Now while it may seem odd that a cross-dressing rapper who both screams and croons his practically unintelligible lyrics about the most superficial of topics can be labelled as accessible, it's true. Anyone can sit down and listen to a Young Thug song and understand the general idea of what the song was about by solely paying attention to Thug's voice. He communicates his feelings solely through the different inflections of his voice. With this, he is able to appeal directly to his audience's emotions and not have to concern himself with the complex wordplay or figurative language of his contemporaries and peers.
Thug is streamlining hip-hop by placing more of an emphasis on the music rather than the lyrics. Since cavemen started banging rocks together to create the first ever rhythm, music has always been about the music and its impact on the audience, meaning that what Young Thug is doing is evolving hip-hop into something much more pure and concentrated.
For all that Young Thug is, he is not definable at all. He's a walking paradox, with his stereotypical "gangsta" name implying that he's just another ignorant and contrived Atlanta rapper, when the opposite is true. He's a flamboyant, emotional, introspective artist who refuses to be pinned down by the expectations of the genre and of those around him. He is even thinking of changing his stage name to something less aggressive in "Jeffrey," with concerns that his children will grow up calling him "Thug."
With all these contradictions surrounding this man, could it possibly be true that a trap rapper named "Young Thug" is in fact a genius and one of the most important artists of his generation? Well, in the words of the man himself, "Yeah, yeah yeah, yeah, yeah, yeah yeah."