This October, Taylor Swift was a very busy woman after releasing The Eras Tour Movie, caused a frenzy by gracing a few Kansas City Chiefs games, and after months of anticipation, she released 1989 (Taylor's Version) on October 27th, 2023. 
1989 is named after the year she was born and when the cultural sensation was originally released in 2014, it signaled her musical rebirth as she transitioned from country music to become a bonafide pop star. In a note on this album, Swift wrote "I was born in 1989, reinvented for the first time in 2014, and a part of me was reclaimed in 2023 with the re-release of this album I love so dearly."
This album marks her fourth re-record complete with five new vault tracks and this time around, Swift brings a richer, matured voice and more sophisticated production to 1989 against the backdrop of a relaxed East Coast beach. 
Upon release, 1989 (Taylor's Version), caused both Spotify and Apple Music to crash as millions of users tried to access it, breaking Swift's own record set with her album Midnights in 2022 for the most streams in a single day.
This record as a whole is a celebration of life, love, friendship, and self expression, with each track earning its place with one banger after another.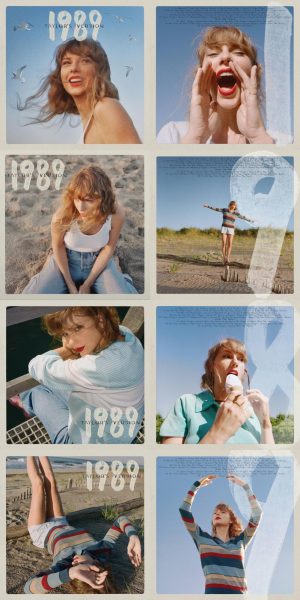 In an Instagram post, Swift admitted that "this is my most FAVORITE re-record I've ever done because the 5 From The Vault tracks are so insane. I can't believe they were ever left behind."
The first of the five vault tracks, "Slut!," is an unexpected breathy love ballad that doubles as a commentary on slut-shamming with sharp lines like "I'll pay the price you won't". It debuted in the U.S. at No. 1 with 5.2 million streams, and 11.3 million streams world wide. 
With "Don't Say Go," Swift adds her latest gut-wrenching break-up song to her discography with the help of co-writer Dianne Warren. The track begins with a heavy downbeat and low tones to only pitch up and transitions to a spirited, snappy tune with the lines "Why'd you have to lead me on?/Why'd you have to twist the knife?/Walk away and leave me bleeding, bleeding?" 
Next comes a song entitled: "Now That We Don't Talk," that begins with the feelings of regret and longing that can come after a break up, but then ultimately celebrates the freedom singledom can bring. Accompanied by a subtle synth, Swift playfully sings that "Now that we don't talk/I don't have to pretend I like acid rock/Or that I'd like to be on a mega-yacht/With important men who think important thoughts/Guess maybe I am better of/Now that we don't talk".
Then "Suburban Legends" comes over the speakers like an upwards rollercoaster immersing us in a doomed love story set in a high school in the suburbs, not unlike our own. This vault track is the most underrated of the new tracks and it's chorus ("I didn't come here to make friends/We were born to be suburban legends/When you hold me it holds me together/And you kissed me in a way that's gonna screw me up forever") is one of the best examples of Swift's unparalleled lyricism.
Many fans hoped for a Harry Styles feature on the re-record of 1989 (given the album's rumored connection to their past relationship), but the album's final track "Is It Over Now," may offer insight into his absence. The lyrics are cutting as Swift belts how "If she's got blue eyes I will surmise that you'll probably date her/You dream of my mouth before it called you a lying traitor/You search in every model's bed for something greater,". 
In summary, this record is the latest testament to Swift's musical genius and further cements her status as a lyrical mastermind and the undisputed queen of pop.