I dressed like a NYC businesswoman and here's what happened
After days of wondering what my next article was going to be about, I decided on writing an interactive article. For one school week, I would dress up in only professional clothing that would match that of a typical Wall Street businesswoman. I also would blog the reactions of my peers as well as my feelings throughout the day. In our world today, it is easy to lose ourselves in what others are doing. This is why it is so important that we continue to be creative and make bold statements whether it is in fashion or in daily life. Here is what happened during my business week of dressing like a New York City businesswoman.
Day 1
On a normal basis, I tend to dress very casually, but I started out my week with a dress. My outfit today consisted of a checkered print shift and a black suede belt from Zara as well. I paired this outfit with wedge heels from DKNY and a pair of small, pink studded earrings.  Walking into school was quite intimidating. It was Monday, meaning everyone was in their classic Adidas sweats and a sweatshirt. I strutted into school, my heels clicking as I walked. I caught a few curious stares as I walked through the halls, the more confused the better. Making a bold statement is always about drawing attention to yourself through the element of surprise. You want to make people think about your clothing choices. It is the only way to pioneer new looks. After facing the fearful part of the day, the rest of it went well. I felt more confident as the day went on, and the staring faces turned to smiles and nods of appreciation.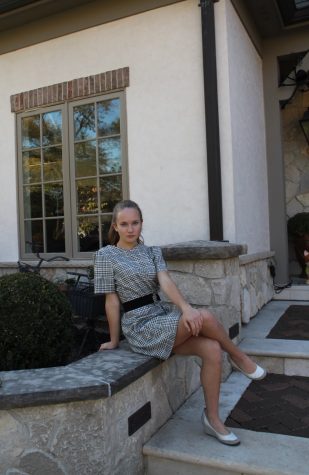 Day 2
It was the second day and I was much more confident. As I find Tuesdays boring, I decided to spice things up a little bit by avoiding the traditional black and white, dressing in more modern colors. The trend for anything rose-colored is on the rise. This was my inspiration to wear a rose button down silk shirt with a black bow in the front. My pants were navy and shaped flowingly. I paired them with classic black Tommy Hilfiger heels. An important observation to note about this outfit is the bow on the shirt. As we get older we tend to shy away from clothing that reminds us of childhood—pigtails, overalls, bows. We are eager and ready to become that new mature person we always wanted to be. Regardless of age, bows are a must-have. They are cute, classy, and add a little pop to your normal outfits. Most people actually ended up commenting on the bow as its position in the front drew the most attention. It was different, it was noticeable.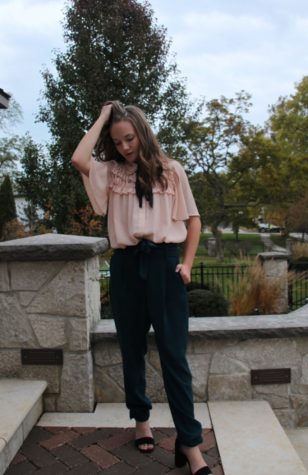 Day 3
Wednesday I went with a classic business look. I wore a white button down from Armani, a black and white herringbone blazer from Banana Republic, and velvet black pants from H&M. Velvet pants are both comfortable and sophisticated. They are a solid alternative to wearing a dress or tight pencil skirt, as they are more comfortable. Layering blazers are also perfect for fall and can be easily adjusted to the outside climates. Buying blazers in neutral colors and adding pops of colors is very trendy, as well as mixing solids and patterns. I absolutely loved this outfit and it was classy as well as comfortable. This outfit was definitely the business casual winner, and the blazer topped it off my drawing attention as well as compliments.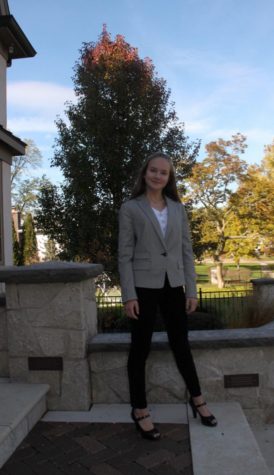 Day 4
I sported Zara today as usual. I dressed in black-and-white checkered pants and a black short-sleeved turtleneck. When dressing business casual, Zara is the place to go. Along with being affordable, the quality is good and the brand is strictly European. Because of this, you get a catch on the new trends and can mix-and-match based on clothing preferences. They also have a great selection for petite women. On top of that, for the low prices, the quality is incredible and the comfort of the outfit is exceptional. This outfit was credited as the most simple yet elegant of them all. Wearing heels to school drew many looks and was very intimidating, but the other positive attention was worth it.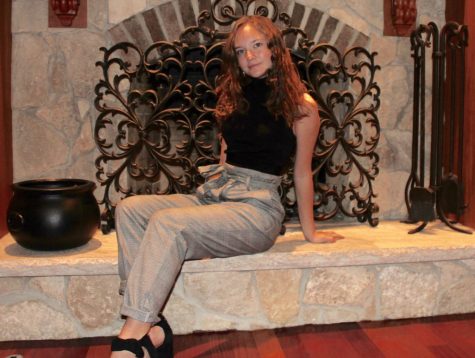 Day 5
As a celebration for my week of NYC style, I decided to pull out my favorite Burberry trench coat. You do not have to be Sherlock to pull of a trench; anyone can look good in any color or style of this jacket. Flattering on all body types, the trench coat is definitely the way to go. To add more of a trendy look, leave the top buttons unbuttoned to create more comfort. Because my trench coat was black, I chose to match that theme with black-and-white gingham pants from Zara. I also went for a classic business look with a white button down from Banana Republic that I tucked into my jeans. Banana Republic is a great place to shop for business clothes. While it is relatively expensive, the quality is incomparable to any other store. I loved this outfit. I felt so confident and sleek in my black trench. A trench coat is the ultimate must-have closet item. The reactions of my peers were positive. Sometimes we assume that when we wear something bold and risky people will judge us. Though that judgment is unavoidable, there will also be people are praising you for your bravery.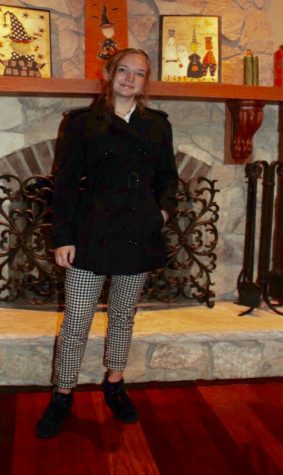 There was a lot more to this experience then just the clothes. It taught me lessons. Lessons about confidence, about self-love, about feeling as good as I look. It is easy, especially currently, to get lost nowadays in how we look. We constantly worry and stress about the way people look at us when really the only opinion that matters is the opinion we have of ourselves. It may be cliché, but it is true. At the beginning of this social experiment, I was self-conscious and received some judgmental stares. As the week went on, however, I began to gain confidence. Looks are not everything, but it is important that when you step out of the house you feel your best self. This improves self-confidence, communication skills, and can even affect your future. They say dress for the job you want, not the job you have. This applies to situations more often than you think. It is important to feel your best, in whatever you feel most confident in.