Lady Gaga's Grammy Awards Journey
Stefani Joanne Angelina Germanotta was a literal nobody before she released her tracks and her album The Fame. Even today, if someone mentioned her real name, they might be met with a shrug or raised eyebrow. However, Lady Gaga, and the force that she is, has shaped the world of music that we know today. Moreover, she has shaped the expectations of what the red carpet, more specifically, the Grammy Awards, are.
With 24 nominations and 9 wins from her first appearance until now, Gaga has truly innovated and changed the idea of fashion and what to wear to this iconic awards night.
While most people now know her for her hit song "Shallow" from A Star is Born, a look needs to be taken at the multifaceted personas and outfits that have accompanied Gaga to these awards.
2010: First Time's a Charm!
After being nominated for Best Dance Recording in her song "Just Dance," Gaga attended the 2010 Grammys, grabbing two wins for Best Electronic/Dance Album for The Fame and Best Dance Recording for "Poker Face."
In terms of outfits, Gaga showed up with three main garments for the 2010 Grammys. For her entrance look, she sported a blond/yellow wig, with a semi-see-through ensemble resembling a spool of thread, adorned with "heel-less" heels and a spike ball that looked more like a weapon than an accessory. For her performance outfit, she wore a green bodysuit, long platinum wig, and adorned eye makeup. Finally, for her acceptance look, she showcased a rather artistic headpiece and shaped silver suit, topping it off with pink triangle eye makeup for emphasis.
2011: Egg?
2011 was not the first time an egg's broken the internet!
Gaga took home three Grammy awards: Best Pop Vocal Album for The Fame Monster, Best Short Form Music Video and Best Female Pop Vocal Performance for "Bad Romance."
However, the real shock was not her now racking up five Grammy awards in the past two years, but her entrance look. She came in adorned as an egg on the red carpet, and was carried onto the stage, revealing underneath a pale ensemble to perform "Born this Way" to the audience.
2015: All Smiles, "Cheek to Cheek"
After winning the Best Traditional Pop Vocal Album Grammy for her work with Tony Bennett in "Cheek to Cheek," Gaga came in with quite a simple number for her. With platinum hair and a silver dress and shoes, Gaga went classy and simple for the 2015 Grammys.
2016: Bowie, Bowie, Bowie
In 2016, while Gaga did not win any Grammys, she did arrive in a Bowie tribute, with a Ziggy Stardust-inspired blue dress and hair. After performing in honor of David Bowie's recent passing, Gaga showcased a wide arrangement of outfit changes in her highly anticipated tribute.
2018: Back in Black
In 2018, Gaga came with two nominations, but left with no awards. However, her biker-inspired, black-adorned outfit from the 2018 Grammys Award turned heads and was highly acclaimed as one of the best outfits of the awards.
2019: A Star is Born
In probably her most highly acclaimed, noticed, and fame-filled awards season to date, Gaga came to the 2019 Grammys with 5 nominations and left with 3 trophies for her work in "Shallow" from A Star is Born and "Joanne." Furthermore, Gaga came to the red carpet with a silver outfit, adorned with a silver and platinum necklace.
Thus far, 2019 truly is the year of Gaga. From her show-stopping beginnings to now, Gaga has shaped the fashion, music, and identity of pop culture forever. With various eras of her stardom behind us, we will see what comes next for Lady Gaga's unforgettable career.
About the Contributor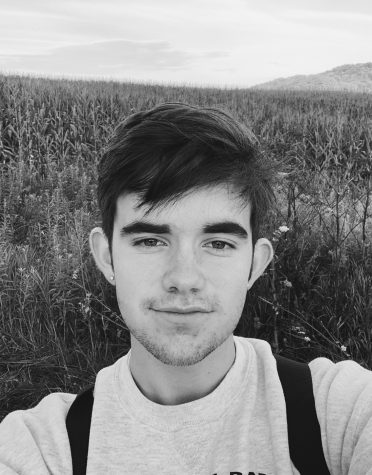 William Hohe, Co-Editor-In-Chief
William is currently a senior and is thrilled to be apart of the Glen Bard Editorial Board for his fourth year as the Co-Editor-In-Chief. Besides writing...