Norman F***ing Rockwell: Lana Del Rey's fifth studio album offers both success and surprises
After a two year album hiatus, solely releasing single tracks, covers, and movie soundtrack singles, Lana Del Rey is back with her fifth studio album, "Norman F***ing Rockwell." Inspired by the 20th century painter, Norman Rockwell, this bona fide album features tracks unlike any of Lana's previous work. 
As noted by Jenn Pelly of Pitchfork, the slight Americanism and symbolism of the American flag Lana previously brought in all her star-studded performances and albums came to a halt in 2017. Almost intermittently with the changing political scene of America, Lana seems to be changing and rewriting herself, and "Norman F***ing Rockwell" accomplishes just that. 
Drawing from Norman Rockwell's idyllicism and perfectionistic appearances of the 1950's American culture and society of the time, Lana attempts to satirize many of the problems of American society itself, in response to the exceptionalism presented in a multitude Rockwell's compositions.
Focusing more on some of my personal favorites from the album, Lana starts off with the self-titled song, "Norman F***ing Rockwell." This track includes beautiful melodies and harmonies, ballads and soulful tones unlike any other tracks of hers in the past. She includes wisps of her classic airy tones, but keeps the majority of her song focused on the lyrics. Calling upon the late artist, she speaks of bad poetry, blaming the news, and exceptionalism, for the terrors going on all around her in the American political scene. Needless to say, Lana begins her album with a title track that does not disappoint. 
Likewise, she continues with "Mariners Apartment Complex," one of the singles she released before the album itself came out. Back in September of 2018, about a year before the album became public, this song was released in defiance of the many egos and personalities Lana toyed with on "Born to Die," "Honeymoon," and "Ultraviolence" alike. She seems to be an unfailing and complete pro at this point, as she proclaims "I ain't no candle in the wind." She's the "kind of girl whose gonna make you wonder" how the heck she turned her head throbbing and desperate cries of "Born to Die" to empowering and strong tracks in "Norman F***ing Rockwell." In a turn for the best, Lana secures her strength by the second track of this already beautiful composition.
Playing with sweet melodies and simplicity, Lana transitions to "Cinnamon Girl," one of my absolute favorites from the album. This is one of Lana's simple yet memorable and elegant love songs of struggle and final salvation in finding "the first who ever did." As she had many times in "Lust for Life," Lana brings up one of her motifs: cinnamon. In "Radio," featured on her 2012 album, Lana continues to rep herself as the queen of nuances and hidden connections throughout her many songs. 
While not her own song, Lana's cover of "Doin' Time," a 1996 Sublime song, may very well pass up the original as the best version of this timeless track. It is classic California summer, with beautiful and light lyrics, a magnificent beat, and poetic lyrics that make all listeners feel the highs and lows of a rocky love story. Furthermore, this song gave us probably one of Lana's most creative and entertaining music videos. It includes Lana, the size of skyscrapers, strolling through the city streets, fanning herself as she grazes by cars and apartment buildings on her way to the beach to catch some summer sun. Organic and ever so original, Lana makes this Sublime song all her own. 
Lastly and certainly my favorite, "The Greatest" is a masterpiece in my eyes. It is nostalgic, which I love, and features some sly, creative political and artistic references throughout. She connects to New York, her original music scene, talks about missile scares, climate change, and even rapper Kanye West. Even more, she mentions a little bit of Bowie, stating that "'Life on Mars' ain't just a song," which leaves listeners feeling rather empty, but ever so reflective. Though this song may leave some with a sour taste in their mouth, the utter remembrance of yesterday and focus on the journey encapsulates everything I love and adore about Lana's discography. 
Norman F***ing Rockwell is unlike any other. Beautiful, complex, but still Lana, this album sees a new dawn for Lizzie Grant, as she adventures a new cultural and political scene. In all the distractions and despair of the everyday, Lana bears a bit of hope, resilience, and strength in a time when everyone needs it most.
About the Contributor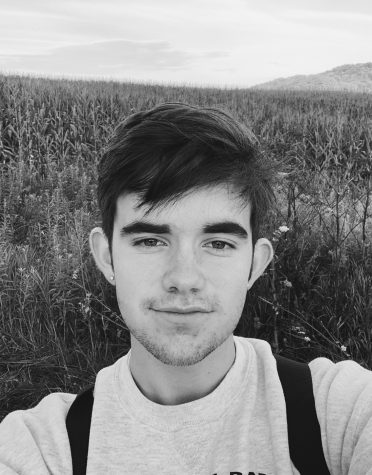 William Hohe, Co-Editor-In-Chief
William is currently a senior and is thrilled to be apart of the Glen Bard Editorial Board for his fourth year as the Co-Editor-In-Chief. Besides writing...