Harry Styles 'Lights Up' the Music Scene with Two New Singles
Harry Styles? Remember him? 
The One Direction heartthrob turned one-man sensation with his self-titled first album, Harry Styles, is back again with two new singles to his soon-to-be-released album, Fine Line. These two singles, "Lights Up" and "Watermelon Sugar" are quintessential examples of the every changing beats and talent that defines who Harry Styles is.
To be released on December 13th, Styles released the first single, "Lights Up" on October 11, 2019. As October 11 is National Coming Out Day, this had many fans speculating about his sexual orientation and the possible significance of releasing it on this date. However, focusing on the music, "Lights Up" is quite different than what Styles has produced in the past.
In hopes of being able to define him more clearly, I listened to his freshman album a multitude of times. Very thoroughly. And loved it. Switching from One Direction to that was a huge jump in the right direction, might I add. With songs such as "Woman," "Sign of the Times," and "Meet Me in the Hallway," that bounce from uplifting to slightly saddening to sultry, his first album exhibits his renowned repertoire of hits that he is able to produce. Thus, it makes sense why the differentiation of "Lights Up" from his past tracks is no surprise as at all.
To me, "Lights Up" is quite motivational and vulnerable. With lines such as "Step into the light, so bright sometimes" and "I'm not ever going back," it seems that Styles himself is letting go of the past, not letting anyone or anything define him.
Accompanied with this song, Styles presented a cinematically beautiful music video. With movement, a variety of faces and landscapes, Harry seems to be hinting at new experiences and exposure he has become accustomed to and visually showcases the ideals of moving from past to present, transcending himself into the future.
Going a complete one-eighty, Harry then brought his other single, "Watermelon Sugar" to the table. To me, this song is unlike any other.
"Watermelon Sugar" is summery and fun, giving a ray of positivity while we are here surrounded by cooling temperatures and frigid winds.
Lyrics like "Taste like strawberries on a summer evenin'" and "Baby, you're at the end of June," Styles is personifying the fruits of summer as the season we all know and love. Reminiscing and giving visuals of the brightness and warmth of the months of roughly June to September, Styles carries his heavier "Lights Up" single to a fun, upbeat, pop hit in "Watermelon Sugar."
If these two singles weren't enough, Harry is releasing the entirely of Fine Line on December 13, 2019. Be on the lookout for his release to get more of this variety and the ever changing persona that is Harry Styles.
About the Contributor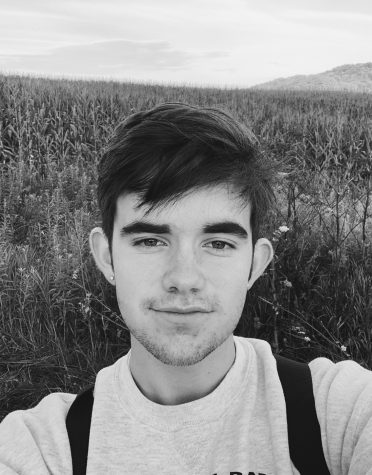 William Hohe, Co-Editor-In-Chief
William is currently a senior and is thrilled to be apart of the Glen Bard Editorial Board for his fourth year as the Co-Editor-In-Chief. Besides writing...