'If this idiot can do it, anybody can': Sean Hayes accepts his Distinguished Alumni Award
On February 6th, 2020, Golden Globe nominated, Emmy award-winning, Hollywood actor and most importantly, Glenbard West alumnus, Sean Hayes came for a short reception to accept his Distinguished Alumni Award as one of the eight recipients for the award's second year.
Hayes arrived with his husband, Scott Icenogle, to an audience of theatre, PRISM, forensics, and various Glenbard West students who have similar interests with Sean Hayes (theatre, acting, LGBT+ advocacy, etc.). Additionally, Hayes' best friend from high school, Reina, another Glenbard West alumni and his 1988 prom date, was in attendance.
On accepting the award, Hayes mixed in a bit of humor with inspiring messages for the students. After looking at the award's description, he jokingly said, "I wish I could read" and following this humor with sincerity sharing, "This is such a cool honor, it is amazing to be here with you all." He went on with his charisma and one-of-a-kind comedy while exclaiming, "If this idiot can do it, anybody can."
"It takes ambition, drive, you need to want it more than anybody else," Hayes professed about achieving happiness.
"Success means happiness in whatever you do" was an over-arching theme that Hayes referenced throughout his speech. He made clear that he "wake[s] up every day feeling blessed and grateful" and for that to be a similar scenario for all students, that his "wish for [everyone] is to find whatever that is" that makes you wake up feeling whole.
Hayes then asked, "Did you guys kinda want it to be a snow day?" Hayes then moved into a Q&A type conversation between himself and those in attendance. Hayes came up with the first question, of course, asking his former prom date, "Did you know I was gay when we went to prom together?"
She said she did that she had suspicions, she shared.
Mr. Moran, theatre and English teacher, asked, "Is there any time along the way [to your success] when you had doubt?" Hayes shared that he moved to Los Angeles and had never been there before, with little money and only his car packed to the brim. Though he "knew that [L.A.] [was] where they made sh-tuff [sic]," he confessed that every other week he wanted to move back and had doubts. Yet, commercial after booking, he made his way up and defined himself in Los Angeles. In the end, he is glad he stuck around.
Though there were ups and downs for Hayes in his pursuit for success and happiness in acting, the heartfelt message Hayes left was, "If you love something so much, what you want to do, nothing else matters." He credits his confidence in this to the safeguards he experienced with GBW Theatre and his times at Glenbard West.
Moving onward, someone asked, "How did it feel when you first came out?" Hayes discussed that he came out in the 80s at age 18 when it was a different time. Though things are quite more accepting now, there are still many leaps and growth that needs to occur, he concedes. He admitted he struggled because "when you feel different, you feel like nobody is going to accept you the way you are." He advised students in this situation of coming out or who have recently come out to find one friend who supports them and to "lean on each other to help [each other] through it."
Later, Hayes also discussed topics relating to acting obstacles with being gay. Hayes talked about how he simply wanted to be an actor and that he was "afraid to be out because [he] wanted to work." Yet, his first big role was a gay man, and his next big role was a gay man on Will and Grace. He said he was being his most authentic and honest self and people saw that. Likewise, Sean Hayes made a name for himself. Since there is "no other [you], no other Selena Gomez" and no other Sean Hayes, it was vital that he was honest with himself.
Another student inquired, "How did you start [your career]?" Hayes shared that it isn't simple as the "business" is always changing. Tom Hanks gave Hayes some advice, saying, "The business is always changing and you have to change with it." Growing up in a time when there were no social media platforms, Hayes adapted and he advises others to do the same and find the best way to publicize yourself and make yourself known.
Lastly, Hayes' final question was, "What's your favorite memory from Glenbard West?" Hayes said he loved high school. He enthusiastically confessed, "I loved cutting class" and "hanging out in the theatre." Even one time, "Reina [his best friend] was stage managing a show here and I was in charge of the scenery. There was a rope hanging from the scenery, pulling it down when needed. The rope hooked to the wheelchair, but something went wrong and the wheelchair was left hanging and swinging on the scenery, but the actor [on stage] needed to be in the wheelchair."
Hayes continued to say that he was a bit of a klutz and "during [West's] Thespian Awards, because of that, they created the golden crutch award (the clumsiest person). As I was walking up to accept [the award], I thought it would be funny to be a klutz and trip when I got it." However, he ended up "knock[ing] [the presenter in the] face and [her] tooth f[ell] out."
Sean Hayes had the whole audience and student body laughing and feeling motivated to find success in whatever they deemed fit. On behalf of the whole Glenbard West community, faculty, and student body, we congratulate Sean Hayes on being named a Distinguished Alumni and for sharing his humor and wisdom.
About the Contributor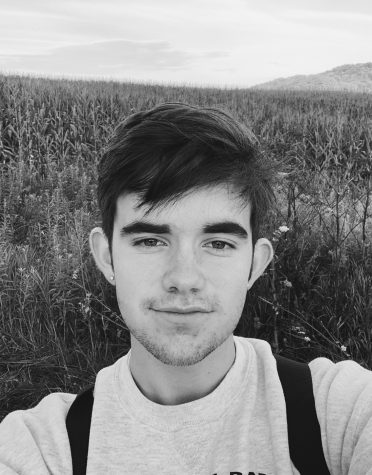 William Hohe, Co-Editor-In-Chief
William is currently a senior and is thrilled to be apart of the Glen Bard Editorial Board for his fourth year as the Co-Editor-In-Chief. Besides writing...