New IHSA guidelines for spring sports
As we transition back into a semi-normal routine of in-person learning at Glenbard West, high school sports are the next subject in question.  Student athletes will be happy to hear that the spring season will bring field hockey (official date is March 1,  ending April 17 with Coach Judge), boys soccer (official start date is March 1, ending April 17 with Coach Kusmierz), freshman football (official start date is March 3, ending April 24 with Coach Zander), sophomore football (official start date is March 3, ending April 24 with Coach Moroni), varsity football (official start date is March 3, ending April 24 with Coach Hetlet), and girls volleyball (official start date is March 8, ending April 24 with Coach Mastandrea).
When participating in sports, we must do it safely and effectively. Mr. Kain, Assistant Principal for Athletics, explained that we are following the Illinois Department of Public Health (IDPH) and Illinois High School Association (IHSA) guidelines for each sport "to help provide a safe environment and minimize risk during the pandemic." This means our athletes must wear masks, practice social distancing, wash hands often, submit weekly saliva samples, and have an up-to-date physical on file at the athletic office.  Students and coaches are committed to following these guidelines.
Junior and varsity football player Graham Pierce says it has been challenging to make sure he and his teammates and coaches are "staying safe and keeping a bubble" because if someone is exposed to COVID-19, the "season could be over in the snap of a finger." The common goal of a successful season is what drives these athletes to stay as safe as possible.
It is important to note that because of the previous sports delays, there will be overlaps between in-season sports.  Athletes will be able to participate in two sports at once, with in-season sports taking priority.  When asked the most challenging part of adapting to new safety guidelines, Mr. Kain explains that the biggest obstacle has been the sharing of facilities as multiple sports overlap.  He says that "coaches and student athletes have done a great job adjusting, but with our numbers in many sports we have to limit the numbers in specific areas due to mitigations."  According to Coach Hetlet, varsity football coach, "there just isn't enough space for all the teams, especially with not being able to go outside.  However, the coaches have been doing a great job of working together."  It is clear that student athletes and coaches are more than willing to adapt to these changes for the love of sport.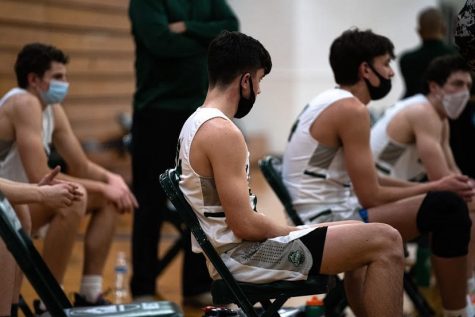 Senior and varsity field hockey player Ava Hartsell said that "building team chemistry and creating meaningful relationships within the organization is one of the best parts of playing field hockey" and explains that it has been a challenge to lose some of those team bonding experiences due to the safety guidelines. However, despite the COVID-19 restrictions, the field hockey team has "maintained a great attitude on and off the field." This positive attitude prevails among all athletes and coaches, as the boys soccer coach, Coach Kusmierz, says the soccer team is staying committed during this situation which requires them to "learn, discover, adapt, and adjust on a consistent basis." Additionally, Pierce says that "throughout all the doubts of sports happening this year in Illinois, the [football] team is ecstatic to carry on the Hitter Legacy."  Mindset is key during these unprecedented times, and these Glenbard West student-athletes are setting the perfect example.