An Underrated Summer Throwback: 'She Is Coming' EP by Miley Cyrus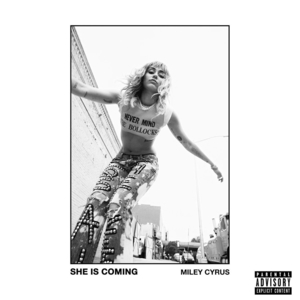 The summer was filled with lots and I mean LOTS of new music. Amidst releases by rappers like Megan Thee Stallion, Nicki Minaj, and the hype surrounding artists like Lizzo, Lana Del Rey, and more, one female artist, Miley Cyrus, slyly released an EP, entitled She Is Coming. 
As a set of EPs, one of three, Miley opens up with this monumental collection of six songs like she did in her album Bangerz: authentic and totally herself. 
Feminism, self-expression, among other themes, entrench the EP's core. In light of the craziness of the past, Miley combines raunchy, edgy songs with meaningful, emotional compositions as well. The six songs are all so different, yet ebb and flow as one, cohesive piece. 
For me, "Mother's Daughter" is by far the greatest track. A ballad about freedom and openness, Cyrus shows the world her value of family and how she learned to love herself fully. With lyrics such as "Hallelujah, I'm a freak, I'm a freak" to words such as "Oh my god, she got the power," Cyrus acknowledges her weirdness and individuality while simultaneously inspiring others in the process. 
Returning to a more serene, uplifting and gut-reaching ballad in, "The Most," Miley completely switches her focus. Mirroring tones in her hit "Malibu," Cyrus makes this song clearly about marriage, due to at the time, things with Liam Hemsworth were getting serious. Looking and listening back to this song after their marriage ended, it has a sort of bittersweet feeling about love and loss. 
She Is Coming is a spectacle, a collection of songs that is truly Miley. Among other songs, such as "Unholy," "D.R.E.A.M." and others, Miley continues to reinvent herself and I personally cannot wait to see how she continues to do so in her upcoming EPs. 
So, although the year is coming to a close and the top names like Lil Nas X and Ariana Grande are worthy of their time in the spotlight, it is also valid to recognize the sometimes brushed over talent that defined the music of Summer 2019.