Adventures in Baking: Brigadeiros and Rolo-Stuffed Chocolate Chip Cookies
Two delightful recipes, easy and quick to make, to sweeten up your day.
Silky smooth milk chocolate combines with sweet caramel in one of my favorite candies, the Rolo. As my family's resident chocoholic, I also love chocolate fudge. To satisfy both of my baking cravings, I decided to make these two short and easy recipes, Brigadeiros and Rolo-stuffed Chocolate Chip Cookies.
The brigadeiro, a Brazilian staple, is a chocolate truffle covered in chocolate sprinkles. Reading about this delicious dessert on Pinterest, I was intrigued and decided to make it. First, I pulled up the recipe. Then Grace, my baking partner-in-crime, helped me mix the sweetened condensed milk, cocoa powder, and butter together in a bowl. Next, we cooked the mixture in a saucepan on the stove. After about 8 minutes, the fudge was cooked. We added the vanilla extract and let the mixture cool.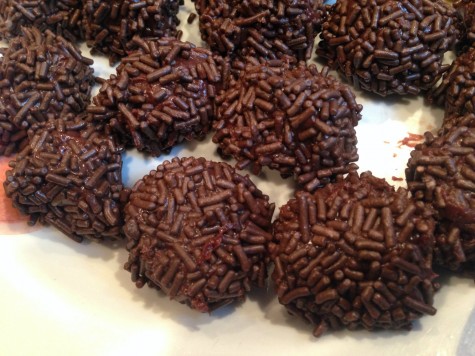 Then we greased our hands, rolled the fudge into balls, covered them in chocolate sprinkles, and proclaimed them to be finished.
The brigadeiro was absolutely scrumptious. Intensely chocolaty and with a smooth texture, the chocolate fudge balls were the best truffles I had ever tasted.
After we finished with the Brigadeiro recipe, we moved onto the Rolo-stuffed Chocolate Chip Cookies. As the name implies, these cookies are regular chocolate chip cookies with Rolos baked into their centers. While I had gotten the idea for this recipe from Pinterest, I decided not to use the provided chocolate chip cookie recipe; instead, I utilized the trustworthy and fabulous King Arthur Flour Chocolate Chip Cookie Recipe. I bought the Rolos from the nearby grocery store. The cookies were simple to make; we simply followed the instructions to make the batter. However, the next step was the trickiest: we had to wrap the Rolos in cookie dough. Grace and I made an assembly line; I would unwrap the Rolos while she wrapped cookie dough around them.
Finally, we finished preparing the cookies.
I carefully placed the pan in the oven and we baked our experiment for 12 minutes. Next, I pulled the cookies out of the oven, Grace and I moved them to the cooling rack, and we tried the first cookie.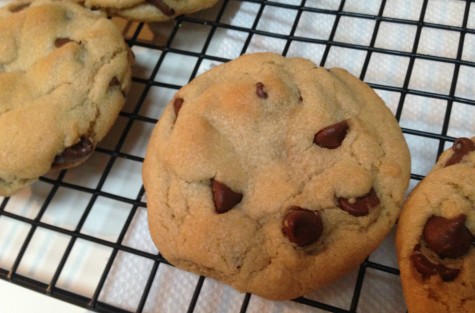 The chocolate chip cookie was perfectly soft, with melty chocolate chips and delicious batter. However, the real showstopper was the Rolo. Inside the oven, the candies had melted inside the cookie, providing a sweet, smooth caramel center. Grace and I immediately deemed the cookies a success.
These recipes were easy, short, and fun to make, not to mention absolutely delicious. The Brigadeiro and Rolo-stuffed Chocolate Chip Cookie recipes are quality recipes and I will definitely make them again.
Check out the recipe for Rolo-stuffed Chocolate Chip cookies here and Brigadeiros here!