The Fall Choir Concert rocked the First United Methodist Church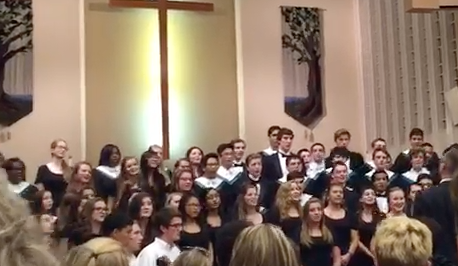 The annual Fall Choir Concert took place a few weeks ago and all who attended were in for a treat. The one hour long concert featured diverse and uplifting music. It took place at the acoustically excellent First United Methodist Church of Glen Ellyn. In total five choirs, comprising more than 125 students, took the platform to perform many different pieces, from serious to peppy.  
The first of the five choirs to perform was the Treble Choir, quickly followed by the Concert and Baritone Choirs. Mrs. Ortega, who rocked the house as the choir accompanist, felt "Im Walde" was great.
Concert and Baritone choirs separated for individual songs, most memorable of which was the Baritone Choirs' "Down in the Valley," in which applause erupted before the song was even over.  
Eric Neumann said, "The duet ["I Want Jesus to Walk With Me"] during Advanced Treble Choir's performance was really good."  Many others commented on enjoying the echo of "The Songbird."   
Chamber Choir rounded out the concert with four numbers and according to Kyle Drexler, a member of the Baritone Choir, "Expressed really good emotion during their songs, which affected the audience." All the choir members closed the show with Carly Simon's "Let the River Run" from the hit movie Working Girl.
All the choirs were very supportive of one another and believed that everybody did well. Lainie Perez and Sarah To, members of the Concert Choir, both felt the songs were religiously conservative but that there was a great variety of languages represented.
Mr. Andrew Jeffrey, choir director of Glenbard West, was very pleased with the performance of all believing there has been significant improvement since the curtain raiser.
Special thanks goes to the amazing percussionists Andrew Scheller, David Gruba, and Marcos Mendez for their incredible performance in assisting the choirs.
Fallon Burns a junior said, "You should come to our concerts because our choirs are really good, you can support your friends and Glenbard West, and it's only an hour long."