The Oscars 2016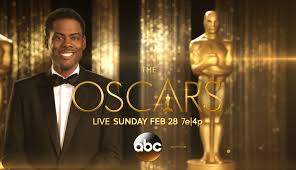 Every year, the Oscars ceremony gives movies the credit they have earned. Audiences look forward to this annual event for various reasons; many enjoy seeing movies they enjoyed be recognized, while others look forward to the comedic aspect of that year's host.
The host of this year of the Oscars was comedian Chris Rock. Rock's presentation centered around the controversy regarding this year's lack of African American nominees. Prior to the awards show this year, many began to question why no minorities were nominated for an award, as seen through the trending "#oscarssowhite" on Twitter. Chris Rock himself focused more on the humorous aspects of the argument, referencing the issue throughout the show.
Among the most prominent moments in this year's Oscars ceremony was Leonardo DiCaprio's Oscar win. For years, DiCaprio has exemplified the many terrific actors who have never been awarded an Oscar despite their wonderful history in film. This year marked the end of that trend for DiCaprio, who earned the award for his leading role in The Revenant. While filming, the cast endured extremely harsh conditions across various freezing locations. Despite the massive obstacle that filming in nature posed, Leonardo DiCaprio gave an excellent and truly Oscar-worthy performance.
Ennio Morricone also won his first Oscar for Best Original Score for The Hateful Eight. Renowned for his various compositions throughout the history of film, Morricone has been ignored for years despite his terrific body of work. This year of the Oscars he finally was acknowledged for his work on The Hateful Eight. Morricone has created many soundtracks for various westerns, including the popular The Good, the Bad, and the Ugly.
Another notable winner at the Oscars was Mad Max: Fury Road. This movie received several awards focused on the more technical aspects of filmmaking such as costume design, film editing, makeup and hairstyling, production design, sound editing, and sound mixing. The film debuted in the United States on May 15th, 2015, and at the time of its release it received fantastic reviews. It was commended for its practical effects, world building, and costumes, and it was precisely these features that earned the movie various Oscars.
Full list of Oscar award winners:
Best Picture- Spotlight
Actor in a Leading Role- Leonardo DiCaprio
Actress in a Leading Role- Brie Larson
Actor in a Supporting Role- Mark Rylance
Actress in a Supporting Role- Alicia Vikander
Animated Feature Film- Inside Out
Cinematography- The Revenant
Costume Design- Mad Max: Fury Road
Directing- The Revenant
Documentary (Feature Film)- Amy
Documentary (Short Film)- A Girl in the River: The Price of Forgiveness
Film Editing- Mad Max: Fury Road
Foreign Language Film- Son of Saul
Makeup and Hairstyling- Mad Max: Fury Road
Music (Original Score)- The Hateful Eight
Music (Original Song)- "Writing's On The Wall" from Spectre
Production Design- Mad Max: Fury Road
Short Film (Animated)- Bear Story
Short Film (Live Action)- Stutterer
Sound Editing- Mad Max: Fury Road
Sound Mixing- Mad Max: Fury Road
Visual Effects- Ex Machina
Writing (Adapted Screenplay)- The Big Short
Writing (Original Screenplay)- Spotlight