Model United Nations returns from their Berkeley trip
Learn about the Model UN club here at Glenbard West!
About two weeks ago, Model UN embarked on its annual trip to the University of California-Berkeley.  For many members, this represented their final trip as part of the club, and the trip was a huge success as well as an incredible weekend for all of those who attended.
Model UN is a club where groups of students form committees and are assigned certain countries along with global issues that they must take care of, and these committees work together to come to a resolution, similar to the role of the United Nations.
Claudia Jackert, president of Model UN, says that "although it is an incredible team atmosphere, personal growth is a really big part of it as well."
Model UN is sponsored by Mr. Kotrba, a social studies teacher at Glenbard West, and the club meets Thursday mornings to assign committees, practice debate, and prepare for the conferences.
At these conferences, Jackert explains, "You're assigned a real committee within the U.N.- like the Security Council or the World Health Organization, and 2-3 topics to research," and from there, the members write position papers to accurately represent their countries' stances on the topics. These committees that schools bring can range anywhere between 16 to 400 people, varying with the specialization of the committee, and "an average conference lasts 3 days with around 4 or 5 three hour committee sessions within that period," says Jackert.

Along with the trip to Berkeley, Model UN also has a trip earlier on in the year to Northwestern University in Evanston, Il, this one being mostly for those who are relatively new to the club. Jackert explains that "the proximity to home definitely lends the conference some comfort that you aren't afforded at Berkeley because you're familiar with which high schools are going to bring prepared resolutions," however, the field still presents very strong competition for those involved.
A unique aspect of the Northwestern trip is what Jacket refers to as "midnight crisis" sessions, where delegates from the committees are woken up at midnight and bussed to another location where they must solve an urgent crisis, for instance, Jackert recalls one where a fellow delegate had a "crisis in her 1970s Northern Ireland committee where John Lennon got killed by terrorists and they had to conduct peace talks until around 4 am."
This hyper-realistic simulation of international affairs, which certainly does not wait for committees to prepare for them, allows students to participate in an informative, stimulating microcosm of international government relations that really cannot be replicated elsewhere.
The Berkeley trip was a major success for Glenbard West Model UN this year, with students Marion Lewandowski, Julia Ilhardt, Tim Nielsen, Max Schmidt, Lisette Gonzalez and Claire Kenwood all receiving research awards.  The West students also had some downtime to explore San Francisco where they walked on Pier 39, hiked in Muir Woods, and went to Ghirardelli Square.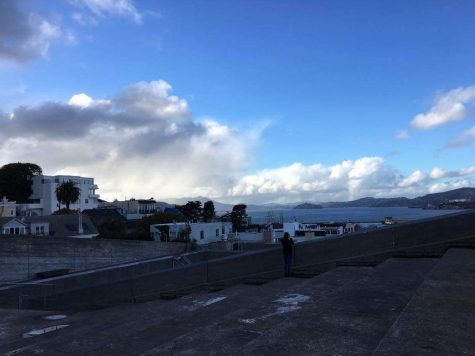 Jackert said with full confidence that acting as a student diplomat through Model United Nations "irrevocably changed the course of [her] high school career," and she also stated that "by being in constant competition on a personal level with all the driven and hardworking people you meet through Model UN, you force yourself into positions you would otherwise never be in."
Model UN is a distinct club that allows students to adventure in the world of diplomacy while only being high schoolers, and for many, this is where their passion for international relations was ignited. The club is always accepting new members, and Jackert is sure of the fact that "being able to work with and become friends with the people on the team is honestly a defining experience of my teenage years and really forged me into who I am today."
Talk to Mr. Kotrba or Claudia Jackert if you have any questions about Model UN!
The committees for the trip were as follows:
Sixth Legal Committee– Republic of Korea, Julia Ilhardt and Marion Lewandowski
Fourth Special Political and Decolonization Committee– Republic of Korea, Tim Nielsen and Max Schmidt
First Disarmament and International Security Committee– Republic of Korea, Kate Dillman and Jack Hennessey
United Nations Economic and Social Council– Republic of Korea, Emma Erickson and Britta Johnston
World Health Organization– Republic of Korea, Suha Surapaneni and Maddie Ratkowski
Sixth Legal Committee– Zambia, Lisette Gonzalez and Claire Kenwood
Fourth Special Political and Decolonization Committee– Zambia, Allison Barry and Asher Riley
First Disarmament and International Security Committee– Zambia, David Morof and Jake Fondel
UNFCCC Conference of the Parties 22.5 (Specialized Committee)– Republic of Korea, Claudia Jackert
Joint Cabinet Crisis (Crisis Committee)– Joan Huyecoper van Maarsseveen and Andrea Gieseman