October Senior Spotlight: Rory Cavan
I'm excited to showcase Rory Cavan as this month's Senior Spotlight! Keep reading to learn more about this nationally-ranked cross country runner.
Abby: Congratulations on an amazing start to the cross country season! Can you talk a little bit about how you, as well as your team, have been doing so far?
Rory: Thanks so much! I'd say the team and I are right where we want to be. We have competed at a very high level so far this year. Our team has finished in the top three in all of our invitational meets so far, and I've been fortunate to win each race, pushed by some excellent competition. My best race individually was running 14:24 for three miles at the State Meet course, which, thanks to lots of votes from Castle Crazies,  earned me National Boys Performer of the Week honors on one popular high school running website. We are excited with this success, but we know we have more to prove going into the end of the season in order to reach our potential. We know how hard we worked over the course of the summer and this fall, and we just need to keep up the hard training to achieve good results during the State Series. We are fortunate as a team to have a core of five senior scorers (me, Stephen Moody, Will O'Brien, Ian Repking, and Bennett Fate), along with several strong underclassmen running Varsity, including sophomores William Hohe and Pierce Cousins, and really the entire team from the freshman level, to sophomore and JV, have been improving every week and setting a bunch of PRs. Individually, I'm honored to have been named to a couple national lists this fall alongside some of the best runners in the country, and I'm hoping to validate that recognition by continuing to run well during the State Series.
Abby: You've always been an integral part of the team, but you've really improved your times in the past two years, and this season there's just no stopping you. What do you attribute to this success?
Rory: That's nice of you, Abby! I would say that I have been successful because of the hard work I have put in along with my teammates and great coaching from Coach Nugent and Coach Frazier, and this year I think my strong results have also come from just having a lot more confidence. I had a tough end to my junior spring track season, having a fever at Conference and Sectionals, and not finishing as well as I wanted. I really used that to motivate myself knowing I had more to prove this fall. I have also developed such a tight bond with my teammates, and I know my success will also contribute to the team's success which has further helped on the mental aspect of the sport.
Abby: How is the team looking heading into the State Series?
Rory: I think we are looking great! We are pretty happy with where we are as a team, but definitely not satisfied. We have had some close races against some very good teams in the state and we know that, although this last month has had some fun invitationals, what matters most are results during Conference, Regionals, Sectionals, and hopefully at the State meet the first weekend in November. We have put all the work in over the course of the summer and early fall, and now we have to go out there and give it our all. We set big goals at the beginning of the year and we are excited to hopefully qualify for the State meet and race for the goals we have worked to hard to achieve.
Abby: How long have you been running cross country and what motivated you to run in high school?
Rory: I have always enjoyed running – I remember I loved running laps around the Ben Franklin elementary school field and I did Jack's Run when I was nine – but I was never serious until high school. At Hadley Junior High, I ran cross country and track but I was really more focused on other sports like soccer and lacrosse, and I was even a kicker for the Golden Eagles one year. Entering Glenbard West as a freshman, I really did not know what sport I would choose in the fall, and I ended up choosing cross country over soccer and football, and then I met my current teammates. I enjoyed cross country and the camaraderie with my teammates so much that I gave up all my other sports to continue running. From there, I was all in on the sport. Now I feel like all the hard work has really started to pay off.
Abby: I know from personal experience what a family a cross country team becomes. Can you talk a bit about the bond between you and your teammates?
Rory: I don't honestly know where to start on this one. I have met great friends doing this sport and the guys are the biggest reason for why I ended up continuing to run. I knew some of my current teammates in middle school, but the connection we have created over the past four years was surprising and I know it will be something I hold onto forever. I think cross country is one of the best team sports because your team score is made up of all of your top five runners and we all rely on each other every meet to run well. One of the best feelings, personally, is crossing the line and seeing your teammates come through knowing that your team ran well. Of course, it's not always that way and you have to be prepared to have an off race, but we always lift each other up and turn our focus to the next race. In addition to racing, there are also the training runs we do every day from morning practices to afternoon practices to long runs to workouts. I have spent countless hours with my teammates and we have endured the same pain in tough workouts and the same joy after big wins and I would say I wouldn't be the person I am today without these guys (Ian, Will, Stephen, Bennett, Seth, Jake, Jacob and many others, including the upperclassmen who guided me when I was a wide-eyed freshman to the younger guys coming up now who will carry the torch when I'm gone).
Abby: Do you or your teammates have any traditions and/or superstitions before a race?
Rory: Well, I am a very superstitious person so yes, I have plenty. I have my lucky racing socks, always do the same stretching routine before I run, and always take a nice epsom salt bath the night before a race to name a few. A great thing our team does is weekly pasta parties. The Friday night before a Saturday meet, one of the guys on the team hosts the team and we cater Barone's to carb up before the big race. We hang out as a team and it's just a great thing we do that I hope it continues long after I leave West.
Abby: Congratulations on your commitment to continuing your academic and running career at Duke University! Has this school always been a dream for you, and was it a hard decision to make?
Rory: Thank you! I would say it honestly is a dream come true. I have always loved the school and to have the opportunity to run at Duke is an honor and a special opportunity. I am so excited to be a Blue Devil. I also really enjoyed my other official visits, including to Yale and Dartmouth, which also have great coaches and teams. I'm genuinely appreciative of all the coaches who expressed an interest in me as a student athlete. For me, though, Duke just felt like home.
Abby: What other activities are you involved in at West?
Rory: I am apart of Target Success, MAWI Leadership, and I am Vice President of National Honor Society.
Abby: What is one of your favorite memories at West?
Rory: From a running standpoint, I would say the State meet from last cross country season, but outside of running, I have loved the school dances and taking part in all of the great traditions of Glenbard West (like leading the banana chant at a West football game).
Abby: Do you have any advice for younger kids be it about cross country or West in general?
Rory: The first thing I would say is that not every race, or every game, will be better than the last. Success doesn't always follow a straight line, but if you believe in yourself, you can achieve goals you didn't think possible. And second, I would say nothing worthwhile comes easy. You tend to get out of a sport what you put into it. And Glenbard West does a great job, through the coaches, teammates, and teachers, of helping you navigate and find a path to success.
Abby: What will you miss the most about your time at Glenbard West?
Rory: I will miss my friends, teammates, and the supportive coaches, teachers and staff at West. I feel incredibly fortunate to have spent my high school years at Glenbard West and luckily still have the rest of my senior year to rep the Green and White and represent the school as best as I can.
It was great hearing from you Rory! Best of luck to you and the rest of the boy's cross country team as they wrap up the end of their season.
About the Writer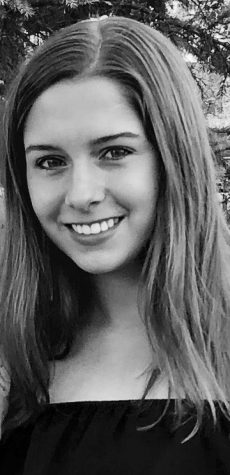 Abby Hoffman, Columnist
Abby Hoffman loves to write and has been involved in the newspaper since she was a freshman. She writes a Senior Spotlight column where she interviews...