November Senior Spotlight – Amber Bode!
Get ready to learn more about this month's Senior Spotlight, Amber Bode: four-year Varsity Field Hockey starter, team captain, and so much more!
Abby: Congratulations on another great field hockey season! Third in State is quite the accomplishment. Can you tell us more about your season?
Amber: Thank you so much! I'm so proud of our team this year! This season we had a very demanding schedule. We played several state champions from Kentucky, Missouri, Texas, Michigan, and Illinois, many of which were Top 20 nationally-ranked high school teams. During Homecoming week, we played four games in five days, each game improving from the next. Our season was filled with multiple injuries, ranging from broken noses to sprains to stitches. As we recovered, our pace and teamwork improved and we finished the season strong against the best teams in our state. While we did lose 1-0 in the semi-final to New Trier, the eventual State champions, we played incredibly well with amazing team synergy. Our final game was a hard-fought 3-2 overtime win against North Shore Country Day, which secured us our 3rd place finish. The season definitely didn't begin how we planned, but with tenacity and great teamwork, our end result was still strong.
Abby: What legacy have you helped build or team achievements are you most proud of?
Amber: We've finished in the Top 3 every year for 4 years in a row, and won the Gateway Classic Tournament in St. Louis three years in a row. We are proud to have beat every varsity team in our state at least once over the past 4 years, including the powerhouses like New Trier and Lake Forest. Glenbard West is ranked as a Top 30 high school team in our 12-state West/Mid-West Region, and even made the Top 25 national team ranking list for a few weeks. This success has brought visibility to our school and program, and inspired many teammates to play in college. This year Glenbard West had four All-State players which is the most any team can have represented. We also broke two school program records: Tessa Erickson holds the record for total number of goals scored on Varsity, and I hold the record for total number of assists.
Abby: That's amazing! Have you received individual field hockey honors or awards?
Amber: My field hockey honors include Illinois Player of the Year in 2017, All State First Team for three years, All Conference for three years, Illinois All Star, and All Academic. I was named to the NFHCA All-Midwest Team and National Academic Squad. MAX Field Hockey selected me as the State Player of the Year last year, and I was All-Region First Team in the West/Mid-West (12-state region) for 2 years. I made the All American Watch List twice and have been a Top 100 nationally ranked player for four years.
Abby: That's so impressive Amber! For those who may not know a lot about this sport, what are the various positions on the team and what position do you play?
Amber: Field hockey requires a high level of fitness, speed, and endurance. It's easy to pick up a stick and start playing, but it's highly technical at elite levels. The setup for field hockey is pretty similar to soccer. We have our goalie, sweeper, defensive line, midfielders and then forwards, but there are no off sides. It is a fluid game, so players often overlap positions as the play moves up the field. I've been the center midfield starter all 4 years, which I absolutely love. As a midfielder, I play both sides of the ball and help control the pace and flow of the game. I'm also a striker on offensive penalty corners and fly for defensive corners.
Abby: How old were you when you started playing field hockey and what made you interested in the sport?
Amber: I started playing field hockey in 4th grade. When we moved to Glen Ellyn, my mom gave me the Park District catalog and told me to pick a new sport. I chose field hockey and instantly fell in love. The coaches and other players made it fun to go to practice, so I have played year-round since then! There were fourteen seniors on varsity this year, and ten of us have been playing together since grade school. Having such amazing teammates with me during this experience has made this season extra special.
Abby: What is your role as a team captain?
Amber: I was honored to be a co-captain with Tessa Erickson and Sarah Fondel, and our leadership styles complemented each other. We did a lot to bring the team together this season: organizing sisters, refocusing after each new injury, helping out Coach [Judge], and representing the team. We also led our pre-game hype and supported our teammates whether we won or lost. We helped make it fun and created special memories as a team.
Abby: What can you tell us about your team camaraderie and the bond you've all formed?
Amber: The camaraderie we formed this season was incredible. As a team we faced multiple injuries, close game losses, incredible wins, and a heartbreaking death. While some things were really hard to move through, we relied on each other to stay strong and play with heart. I learned to truly appreciate the unconditional love of my team, and for my teammates.
Abby: I know we've all been busy with college applications! Have you decided on a college and will you be playing field hockey?
Amber: Yes I have. I'll be playing Division I field hockey at William and Mary! They are competing in the NCAA Tournament as a Sweet 16 team. I went to visit the campus in Williamsburg, VA my freshman year and fell in love. I'm very excited to join the Tribe next year!
Abby: Congratulations! What other activities are you involved in at West?
Amber: I'm on Varsity Track and Field and I'm in the National Honor Society, French Honor Society, Glenbard Global Giving and Eco Clubs. I'm also a tutor at The Write Place.
Abby: What is your favorite memory at West?
Amber: Field hockey-wise, I have to say my favorite memory is from our final state game this season. When I scored putting us ahead 2-1, I looked over to the sidelines and saw Coach Judge and our entire team jumping up and down with so much enthusiasm. That was a huge motivator for the rest of the game. Mr. Mastandrea even got Coach jumping and cheering on video! My favorite memory at West otherwise would be the people. I've made so many good friends here in field hockey and otherwise. I will miss them all.
Abby: What would you tell your freshman self?
Amber: I would tell my freshman self to savor it all. You will have an amazing high school experience, with plenty of ups and downs along the way, but the journey will be meaningful and memorable.
Thanks, Amber! It was so great getting to learn more about you! Best of luck to you next year!
About the Contributor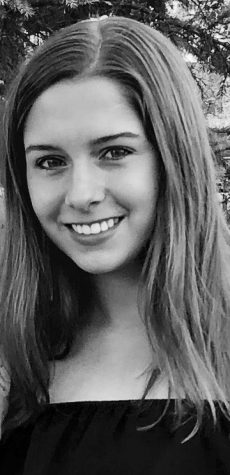 Abby Hoffman, Columnist
Abby Hoffman loves to write and has been involved in the newspaper since she was a freshman. She writes a Senior Spotlight column where she interviews...