Black Box Theater presents 'Falling from Afar' and 'Bucket Ruckus'
Glenbard West Theatre is thrilled to perform the student-written shows Falling From Afar and Bucket Ruckus this upcoming weekend.
Black Box shows are student-written, student-directed productions that take place in the Glenbard West theatre classroom, nicknamed the "Black Box." Before you go see these amazing shows, here is some background information.
The Black Box musical this year is titled Falling From Afar and was written by the talented singer-songwriter Brye Sebring. Brye, a sophomore at West, wrote all of her songs and lyrics by herself, yet the process "took over a year" because she wanted to make sure that the dialogue and songs complemented each other. Sebring is "so proud of the cast and crew" because of their ability to bring her show to life, and she hopes that the audience enjoys her music. Come on out to be entertained by the musical stylings of this cast.
Along with Falling From Afar, Glenbard West Theatre will be debuting the comedy show Bucket Ruckus, written by seniors Lizzie Mowry and Will Davenport. The show's plot is how a bunch of high school misfits "band" together to form a band, yet they only use drums. Mowry wants the student body and community to come view her show to see how "incredibly hard the cast and crew has worked." If this has not interested you enough, there will be many surprises during the performances, such as "food fights and a really scary janitor." Make sure you come see this spunky and quirky show.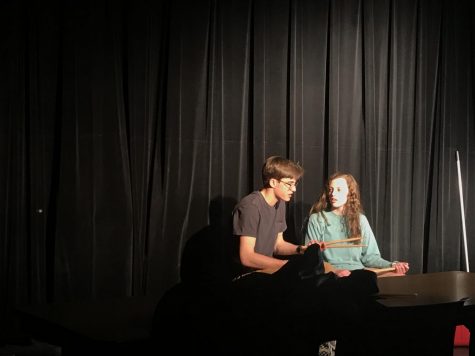 If you are interested in supporting the Glenbard West Black Box shows, watch them Thursday, May 2nd or Friday, May 3rd at 7:00 p.m., or on Saturday, May 4th at both 6:00 p.m. and 8:00 p.m.. The directors advise that you show up early because the capacity of the Black Box traditionally fills fast. Break a leg, cast and crew of this year's Glenbard West Black Box Show Festival!