Ten Things to Know When Going into Fall Fashion Season
Unfortunately, summer is coming to an end. No more sun tanning by the pool, or sleeping in, or packing for your next carefree summer trip. Luckily for us, fall is here! And we can trade in those cool glasses of lemonade for classic pumpkin spice lattes. Before your excitement takes over and you're already looking forward to Christmas, here are ten things you need to know when going into fall fashion season.
1. Layering
Layering is one of the most underrated fall trends. It's easy, stylish, and on top of that convenient. With the insane temperature changes and unsteady climates, it's always important to be on top of your game when picking out your outfit. Layering is really quite simple, start by choosing a good color combination (hint: mix dark with light.) Then work out what patterns you look best in. For example, vertical stripes make you look lean and tall. If you feel your pattern is too overwhelming, try adding solid colors. The bottom layer of your new outfit should be snug and well fitted, while the top layers can be looser. All parts of your clothing should be easy to take on and off, that way you're always prepared for the weather!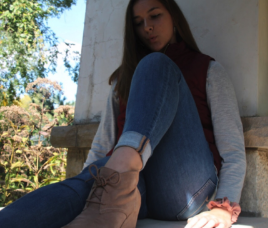 2. Sweaters
The weather is growing cold and bitter, leaves spiral and fall down in an orange and yellow cascade. You can't drive down the street without being barraged by an endless amount of autumn decorations. It's about time to pull out those sweaters from the back of your closets. You can't go wrong pairing a crême colored knitted turtleneck with light-washed ripped jeans. Besides, the wool is so soft it's like wearing a blanket 27/4. Sweaters don't have to be just solid colors, don't shy away from those multi-colored stripes! What's better than curling up on the couch with your oversized sweater and a PSL?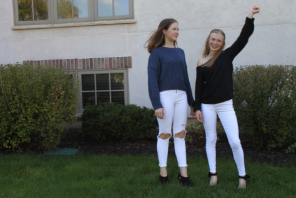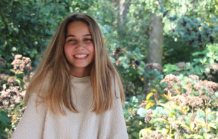 3. Simple
While extravagant fashion choices are both bold and beautiful, sophistication lies in the most simple of looks. It's so easy to look absolutely adorable in a casual pair of jeans and a turtleneck. When dressing simply in the fall, look to jeans first. It's the season when both light wash and dark wash can be worn with, well, nearly everything. Don't disregard the plain, solid colored shirts hiding in the deep dark abyss of your closet. Pull em' out! Start pairing them with your jeans and skirts and voila! Simply perfect.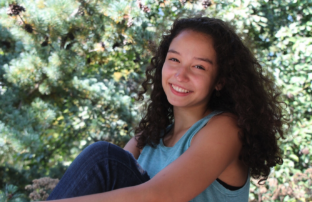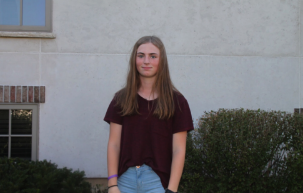 4. Gold
Now, silver is wonderful in the winter, it's cool and classy, but gold practically screams warmth. Pile on those gold chained necklaces and hoop earrings, it's fall season. Don't forget about rings! They give the effect of thin and long fingers. Gold doesn't have to just apply to jewelry, you can find gold colored clothing too. Don't be afraid to try the new trend!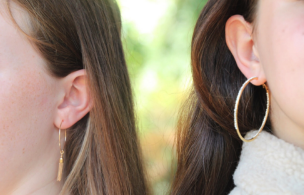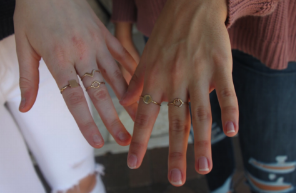 5. Boots
Keep those toes inside your shoes! It's starting to get cold, and you can no longer justify your logic that "wearing sandals in forty degree weather is a good idea," your mom simply doesn't believe you anymore. It's time to trade those sandals in for a nice pair of boots. The greatest thing about boots is it fits anyone's personal style. You prefer to dress fancy every day? Grab a pair of heeled booties off a rack. More of a casual person? Duck boots are your go-to. Boots can fit to whatever style, you do you.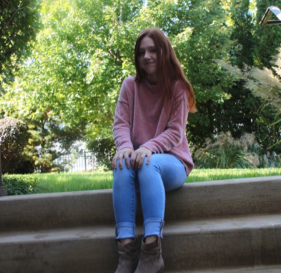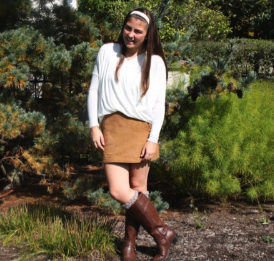 6. Scarves
Yes, scarves are traditionally worn around the neck, but don't let this fool you. Scarves can be worn anywhere; in your hair, around your shoulders, you can even pull a flight attendant move and tie it around your neck. You'd be surprised how many stores sell these. Look in your nearest Forever 21 or Urban Outfitters and you'll find a collection of scarves. An all-time favorite is an oversized scarf which takes the place of a blanket. There are so many ways to work with this trend, use your imagination.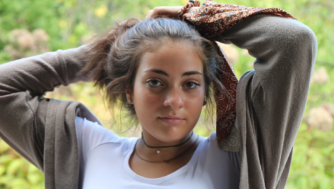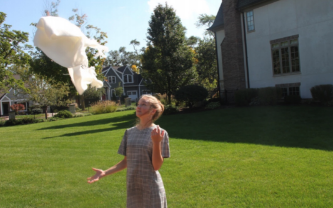 7. Hoops
Hoops might win the award for the trendiest piece of jewelry of 2018. Coming in all shapes and sizes, hoops are just one example of trends you can use to make your outfits a little better. Wearing a pair of high waisted jeans and a t-shirt? Add a little pep to your outfit by adding a belt and a cute pair of hoops. Hoops are traditionally in gold or silver but if you want to be a little bold, go out and buy those bright red hoops you've secretly always wanted!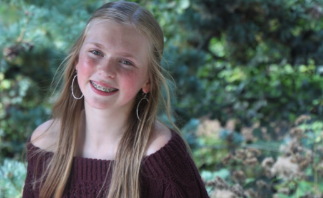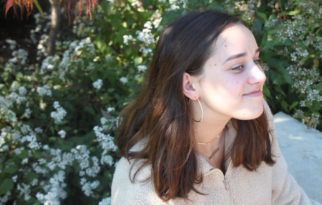 8. Suede
Soft, cozy, comfortable, suede is the epitome of fall fabric. It can easily switch from cute to casual. Surprisingly, the fabric is very airy and not restricting at all, and comes in so many colors and prints. Stores all over sell suede, so you have to be careful in your selections so you're getting the highest quality. You can never have enough suede in your closet: shoes, dresses, skirts, pants, the possibilities are endless! If you want a classic suede look, search for a tan or light brown colored fabric. If you're feeling bold try a bright red with stitching. No matter what, suede is an all-time favorite.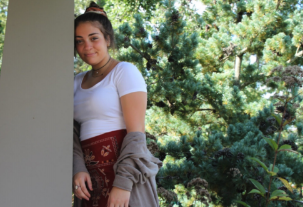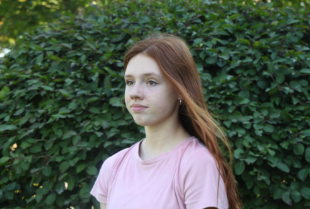 9. Gingham
Perhaps the most popular and adorable pattern of the year, gingham is easily distinguishable by its black and white, checkered print. This trend was carried out heavily throughout the summer season with cute shorts, skirts, and tops, but shouldn't end when the leaves begin to fall. Channel your inner Dorothy and go all out with a full gingham dress. Or tone it down with a gingham top or pants.  The best part about this pattern is its ability to become a casual daytime outfit or a fancy evening look. You don't wanna miss out on this adorable trend!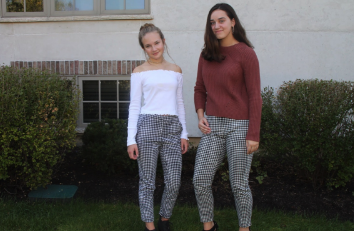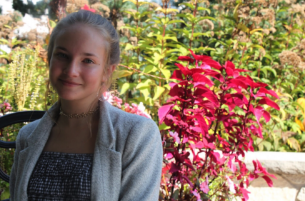 10. Messy Bun
Not only is this hairstyle easy and efficient, but it's also absolutely adorable and looks good on all face shapes. Show off your natural (or dyed) highlights by pulling the front pieces out from behind your ears. Gather your hair and twirl it into a doughnut shape. Tie it up with a ponytail holder, a ribbon, or a scrunchie. Remember the goal is not for the bun to look perfect, but the complete opposite. This hairstyle is especially good if you have thick or curly hair. Forget all that time straightening! Throw it up in a messy bun!