Hollywood Glamour With A Modern Spin: This Year's Golden Globes Fashion
  The Golden Globes, which could arguably be one of the most exciting nights in Hollywood, took place on Thursday, January 10th. As stars stepped out to the red carpet and received awards that may foreshadow the Oscars and Emmys, such as Best Actress, Best Actor, Best Television Actress, and Best Director, they did so in amazing style. The theme of the night seemed to be a combination of modern and traditional Hollywood allure. When you think of fashion at this event, images that come to mind may be the glittering gowns, tuxedos, wavy pressed hair, and deep red lips that dominated the era of the 20s to the 50s. Now, nominees are using this timeless inspiration to permeate their own expression. To achieve this look, celebrities chose renowned designers, which include, but are not limited to, Christian Dior, Valentino, Pamella Roland, Gucci, and Luis Vuitton.
Some of the best dressed include: 
1. Margot Robbie in Chanel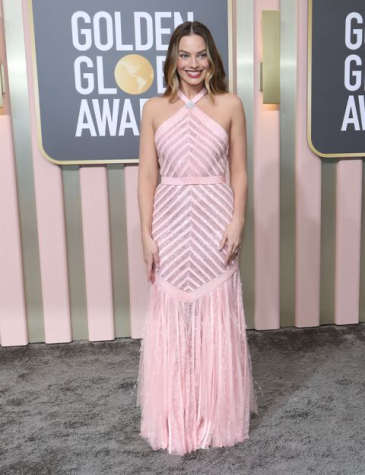 Margot Robbie wore pink to celebrate Barbie, the film she is currently working on. The custom designed halter neck with sheer paneling was a truly beautiful geometric design, which managed to look intricate without a touch of busyness. Tassels accessorizing the bottom of the dress add a nice bit of texture as well. To complete the look, she used red lip gloss and blush, which added a pop of color. 
2. Emma D'Arcy in Acne Studios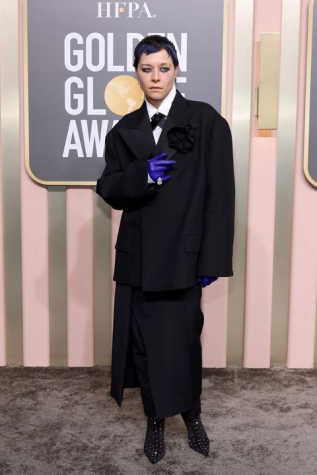 As a relative newcomer to the Hollywood fashion scene, Emma D'Arcy is not afraid to be creative. So far, each of their runway looks have been unique, expressive, and effortlessly cool. This is no exception. The actor donned a tuxedo with a spin, which consisted of an oversized jacket, black trousers, and an oversized top. They did not shy away from color: the subtle details of electric blue hair, purple gloves, and smudged makeup all helped them nail their contemporary aesthetic. 
3. Letitia Wright in Prada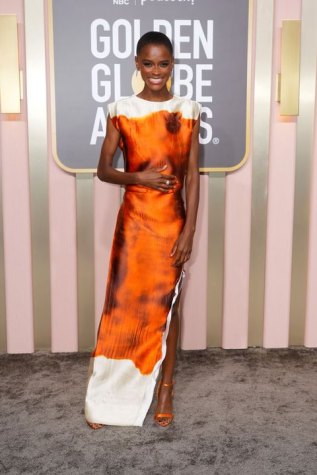 Deviating from her usual look of tailored suits, Letitia Write strutted across the runway in this ombré satin dress. While seemingly simple in design, the outfit is striking because of attention to detail: the dress is perfectly hemmed and the shoes are just the right shade to compliment the dress. Overall, she wonderfully executed this colorful, yes sophisticated look. 
4. Jenna Ortega in Gucci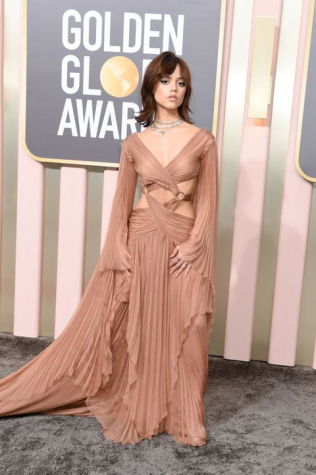 Recently, Jenna Ortega has become one of the most well-known celebrities because of her lead role in the hit Netflix series Wednesday. However, unlike her character's dark goth aesthetic, the actress opted for a softer ensemble. Tiers of pinkish-brown gauzy material created an enchanting cascading skirt. Meanwhile, the ties at the middle of the dress added excitement to the outfit. To finish the ensemble, she wore stacked silver necklaces. 
5. Billy Porter in Christian Siriano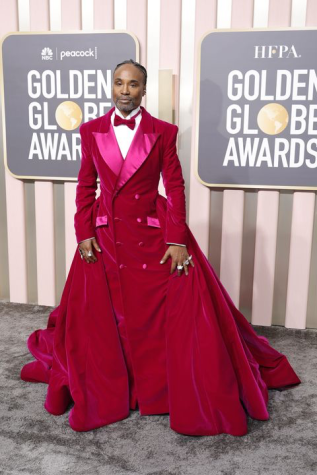 After winning the Emmy Award for Outstanding Lead Actor in a Drama Series last year, Billy Porter came to the Golden Globes with confidence and surprise. He is no stranger to bending gender norms. This custom made tuxedo-skirt is no exception. The actor chose a deep and majestic rose color, which was wonderfully complimented by silver rings.